Instant Mumbai Style Pav Bhaji in Cooker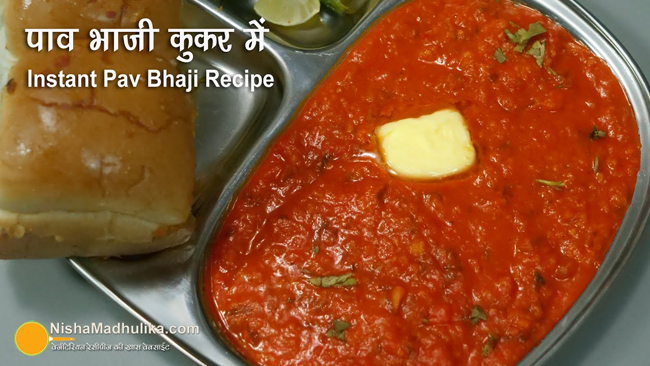 Pav Bhaji is one of the famous things in Mumbai. This is the life of Mumbai and the taste of Mumbai's pav bhaji is also amazing. Today we will make Pav Bhaji in Mumbai Style. But we will make this in the cooker and it will be ready very soon after being cooked in the cooker. So prepare it by making it with an easy method and enjoy Mumbai style pav bhaji sitting at home.
Ingredients for Pav Bhaji
Pav - 6
Potato - 3 (300 g)
Tomato - 4 (250 g)
Cauliflower - 125 g Flowers
Fresh Peas - ½ cup
Green Capsicum - ½ cup, finely chopped
Oil - 2 tbsp
Beetroot - medium
Turmeric Powder - ½ tsp
Green Chilli - 1
Ginger - ½ tsp, grated
Kashmiri Red Chilli - 2.5 tsp
Salt - 1.25 tsp
Lemon Juice - ½ tbsp
Coriander Leaves - 2 tbsp
Butter - 70 grams
Vegetables for Pav Bhaji
Cut 3 potatoes into big pieces. Then finely chop a medium sized beetroot. Take 125 grams floret cauliflower and ½ cup of fresh peas.
Process of boiling vegetables
Mix chopped potatoes, peas, cauliflower, finely chopped beetroot, 1 cup of water, ½ tsp of turmeric and ¾ tsp of salt in the cooker. Now cook them on high flame till one whistle. After a whistle, reduce the flame to low and cook for 4 minutes. After completion of time, keep the cooker to cool down.
Process of making masala for Pav Bhaji
Heat 2 tbsp of oil and 2 tbsp of butter in the pan. When hot, add 4 finely chopped tomatoes, ½ tsp of salt, 1 finely chopped green chilli and ½ tsp of grated ginger. Now fry them well with tomatoes until the tomatoes start getting mashed.
When the tomatoes are mashed well, add ½ cup of finely chopped capsicum and cook them well. When they are cooked, add 1.5 tsp of kashmiri red chilli and 2 tsp of pav bhaji masala and fry them till the spices leave the oil.
When roasted, add boiled vegetables to it and mix. After mixing, reduce the flame to low and mash the vegetables well. After mashing, mix them and add some water to it and dilute it accordingly. Also, add 2 tbsp of butter, the juice of 1 small lemon and 2 tbsp of green coriander and mix it. Bhaji will be ready.
Process of making Pav ready
Take out a part of the pav and cut it from the middle, do not cut it completely, let it be attached to the back. Heat the tawa, put some vegetable and butter on it, put the pav on it and cook it lightly from both the sides. Cook all the pavs in the same way, pav will be ready.
Both Pav and Bhaji will be ready. Serve them with lemon slices and green chillies and enjoy the special taste of Mumbai.
Suggestions
Mash the vegetables well.
Do not cut the pav completely, leave a little behind.
Instant Mumbai Style Pav Bhaji in Cooker

Tags
Categories
Instant Mumbai Style Pav Bhaji in Cooker
Nisha Madhulika
Rating:

5.00

out of

5