Indore and Rajasthan Special Dal Bafla Recipe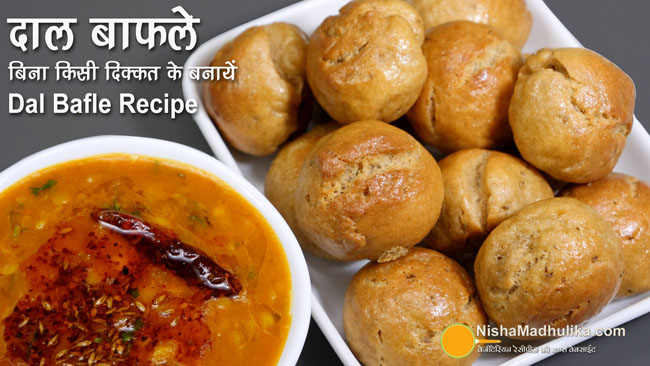 Dal Bafla is one of the special recipes of Rajasthan and Indore. And not only this, Dal Bafla is also one of the very famous street foods of Madhya Pradesh. Today we will make this Dal Bafla with a special recipe. This is an easy recipe and with this we will make special chana urad dal. Chana urad dal with soft and tasty baffle gives a very wonderful taste to the food.
Ingredients required for Bafla Bati
Wheat Flour - 2 cups (300 grams)
Semolina - ½ cup (90 grams)
Salt - a little less than ½ tsp
Carom Seeds - ¾ tsp
Ghee - 3 tbsp
Curd - ¼ cup
Baking Soda - ¼ tsp
Gram Dal - ¼ cup (50 grams)
Red Gram - ½ cup (100 grams)
Ghee - 2 tbsp
Black Pepper - 10
Clove - 3
Cinnamon - 1 inch
Black Cardamom - 1
Cumin Seeds - ¾ tsp
Asafoetida - 1 pinch
Turmeric - ½ tsp
Coriander Powder - 1 tsp
Tomato - 1 (100 g)
Ginger - ¾ inch
Green Chilli - 2
Red Chilli - ½ tsp
Kashmiri Red Chilli - ½ tsp
Salt - 1 tsp
Ghee - 2-3 tsp
Coriander Leaves
Process of making dough
Put 2 cups (300 grams) of wheat flour, ½ cup (90 grams) of semolina, a little less than 1 tsp of salt and ¾ tsp of carom seeds (crush and put it in) in a bowl. Now make a little space in the middle and put 3 tbsp of ghee, ¼ cup of curd and ¼ tsp of baking soda in it. Mix them well, add little by little hot water and knead a hard dough like puri. In this way the dough will be ready, keep it covered for 20 minutes.
Process of making Chana Urad Dal
Wash and soak ¼ cup (50 grams) of gram dal for 2 hours. At the end of the time, drain its water, also wash and soak ½ cup (100 grams) of tur dal with water. Now put 2 tbsp of ghee, 10 black peppers, 3 cloves, 1 cinnamon and 1 big cardamom (peeled and remove the seeds) in the cooker and cook it a little.
Then add ¾ tsp of cumin, 1 pinch of asafoetida, ½ tsp of turmeric and 1 tsp of coriander powder and fry them lightly. When roasted, add 1 tomato, ¾ inch of ginger and 2 green chili paste to it. Now fry them by stirring them on medium flame till they leave the ghee. When lightly roasted, add ½ tsp of crushed red chilli and ½ tsp of kashmiri red chilli and mix it.
When ghee starts coming over the spices, after removing the gram dal and water, add tur dal and fry it for 1 minute. Then add 2 cups of water and 1 tsp of salt or as per taste, close the cooker and cook on high flame till one whistle. After a whistle, reduce the flame to low and cook for 4 minutes. When the time is up, turn off the flame and keep the cooker to cool down.
If the lentils become too thick after cooling, then turn on the flame and add water of your choice and some green coriander and mix it. Dal will be ready. And if you like it like this, then just add some green coriander and mix it. Also, if you want, you can also put a tadka on it.
Process of making Bati
Keep the water hot in the pot. When the time for keeping the dough is over, mash the dough with some ghee in your hand. Now break its balls, you can make it big or small as per your choice. Now put ghee in a sieve, the sieve should be so big that it can be kept on the pan. Then roll a ball lightly and place it on the sieve, not to make it smooth, just make it round. Make rounds in the same way and keep them on a sieve.
Now when the water starts boiling, keep the sieve on it and cover it and steam it on medium-high flame for 15-20 minutes. After the time is up, the bati will be ready, take them out and cool them slightly.
Process of baking in oven
Put butter paper in the oven tray and place some bati on it. Now preheat the oven a little and set it to 230 degree centigrade. Now first bake them for 10 minutes. When the time is up, flip the tray and put it back in the oven and bake it for 10 minutes.
Now take ghee in a bowl and take out each baati by dipping it in ghee. If you want more ghee then break them a little and put them in ghee and if you want less then dip them in the same way.
Process of frying in pan
Heat 2-3 tbsp of ghee in the pan. When hot, keep a bati on the palm and flatten it by pressing it. Now keep it in a pan and keep the rest pressed in the same way. Roast them for 2-3 minutes from the bottom side, then flip and roast them from the other side for 2-3 minutes. Roast them till they turn pink while turning them from both the sides and take them out. In this way, the bati will be ready in the pan.
In this way Bafla Bati and Chana Urad Dal will be ready. Serve it and enjoy its taste.
Suggestions
While steaming the bati, keep them at a distance as they tend to swell.
While cooking the dal, first just add 2 cups of water, later you can make the dal thin or thick as per your requirement.
Indore and Rajasthan Special Dal Bafla Recipe

Tags
Categories
Indore and Rajasthan Special Dal Bafla Recipe
Nisha Madhulika
Rating:

5.00

out of

5