How To Make Gujiya - Gujiya Recipe - Gujhiya Receipe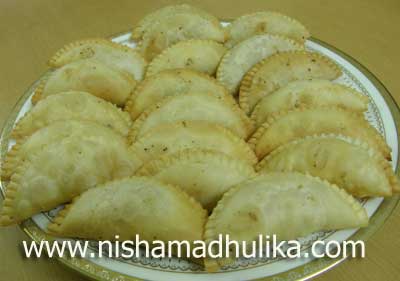 There are different kinds of gujiyas . We also follow different methods to prepare them. One type of mawa gujiya is filled with mawa (khoya) and dipped in sugar syrup. Other gujiyas are there like apple gujiya, kesar gujiya, dry fruits Gujiya, anjeer Gujiya, cashew nuts gujiya, pista gujiya and almond Gujiya
You can prepare the gujiya as you like. Just use your preffered filling mixture. Let's prepare mawa (khoya) gujiya. We make gujiya on the occasion of Holi. Without gujiya Holi seems incomplete.
इस पोस्ट को हिन्दी में पढ़ें
गुझिया
Ingredients for Gujiya Recipe
Mawa (khoya) - 400 gm
Semolina - 100 gm
Ghee - 2 table spoon
Sugar - 400 gm
Cashew Nuts - 100 gm (cut each cashew into 5 – 6 pieces)
Raisin – 50 gm (Remove the stems from it)
Small Cardamom - 7 to 8 ( peeled and granuled)
Dry coconut - 100 gm (grated)
How to Make Gujiya
Cook the dry fruits in a heavy bottomed frying pan, till they turn light brown and take them out in a utensil. Pour ghee in the frying pan and add semolina to it. When semolina turns light brown, take it out in a plate. Grind the sugar.
Mix mawa (khoya), semolina, sugar and dry fruits properly. The mixture for filling gujiya is ready.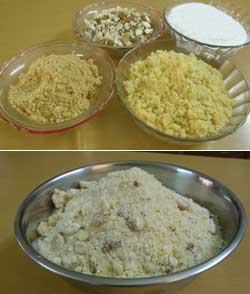 Ingredients for the preparation of flour for Gujiya
White flour - 500 gm
Milk or Curd - 50 gm
Ghee - 125 gm (To mush flour and to fry)
How to cook Gujiya Recipe
Purify the white flour by filtering it and take it out in a bowl. Mix the melted ghee in the flour properly and add milk to the flour. Mush tight dough with the help of water and cover the dough with wet cloth for half an hour.
Remove the cloth and mush the dough to make it soft . Make small round pieces from the dough (about 50 to 55 pieces can be made from this dough). Cover these round shaped pieces with a wet cloth. Take out one small piece and flatten it in about 4 inch (diameter), with the help of a roller. Now keep this in a big plate. Repeat this for about 10 pieces of the dough, and keep them in the big plate.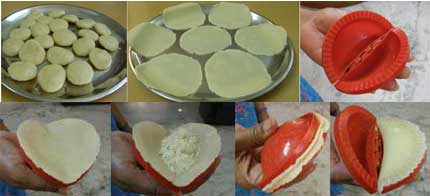 Methods to fill the Gujiya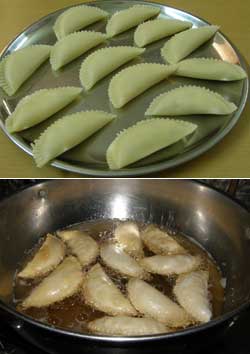 1. Put the flatted dough on your palm and put some mixture on it. Fold and close it and cut it in spiral shape on the thinner side.
2. Put the flatted dough on your palm and put some mixture on it. Fold and close it and press on the thinner side.
3. Put the flatted dough on the gujiya cast and put some mixture on it. Apply little water on the sides and, close and press the cast.
You can use any of the three methods outlined above to fill the gujiyas. But the third method is easiest, it takes less time and all the gujiyas have the same shape and size.
We have ten flatted doughs, pick one up and put it on the cast and put 1 ½ spoon mixture on top of it. Apply water on the sides with you finger. Close the cast, press and remove the residual dough. Open the cast, take out the gujiya and put it in a big plate. In the same way, use rest of the flatted dough and put the gujiyas into the big plate. Cover the plate with a thick and washed cloth. Now again make 10 flatted dough pieces, fill them like above and cover them. Like this, prepare all the gujiyas and cover them.
Now if you are tired, you can take a tea break.
Put the ghee in a thick bottomed frying pan and heat it. In the hot ghee, put 7 to 8 gujiyas and fry while turning them with a frying spoon, till they turn light brown. Now take out the gujiyas and put them in a big plate. Like this fry rest of the gujiyas and put them in the big plate.
Your gujiyas are now ready to be serve and eat, piping hot. let the remaining gujiyas cool and then store them in an air tight container. For 15 to 20 days, you can have them any time.
How To Make Gujiya Video In Hindi

Tags
Categories
How To Make Gujiya - Gujiya Recipe - Gujhiya Receipe
Nisha Madhulika
Rating:

5.00

out of

5