Chana Dal Rice Dhokla Quick Recipe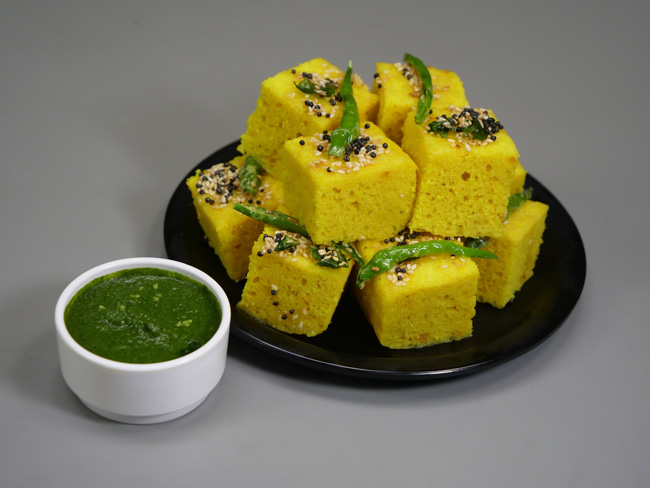 Today we are going to make chana dal rice dhokla with a very special taste. It is very easy to make and it will be ready in a jiffy. They are very tasty to eat and it is also a very light snack. So make this light breakfast on the day of the holiday and enjoy its taste with your family.
Ingredients for Chana Dal Chawal Dhokla
Gram Dal - ½ Cup (100 gms)
Rice - ½ Cup (100 gms)
Green Chilli - 2
Ginger - 1 inch
Turmeric Powder - 2 pinch
Salt - ¾ tsp
Sugar - 2 tsp
Lemon - 1.5 tbsp
Curd - ½ cup
Oil - 1 tbsp
Baking Soda - ¼ tsp
Tadka
Oil - 2 tbsp
Mustard Seeds - ½ tsp
Sesame Seeds - 1 tsp
Green Chilli - 3-4, sliced
Curry Leaves - 10-12
Process of making the Batter
Wash ½ cup of chana dal and ½ cup of rice thoroughly and soak them for 4 hours. After the time is up, drain all the water from them and put them in the mixer jar. Also put 2 green chilies, 1 inch of ginger, 2 pinch of turmeric, ¾ tsp of salt, 2 tsp of sugar, 1.5 tbsp of lemon juice, ½ cup of curd and 1 tbsp of oil in the mixer jar. Then make a fine paste of it and take it out in a bowl.
Process of making Dhokla
Grease a 7/7 inch container with oil, then grease it with butter paper (you can skip it if you don't have). Add ¼ tsp of baking soda to the batter and mix it well. Now pour the batter into the container and tap it so that it becomes even.
Put 2-3 cups of water in a pan and heat it, place a sieve stand in it. After boiling, keep the container on the stand, cover it and let it steam for 20 minutes. While steaming it, first keep the flame high, then when the steam starts to build up and the lid starts bouncing, reduce the flame to low and let it steam.
When the time is up, Dhokla will be ready, take it out and let it cool down. When it cools down, take it out on a plate. Then cut its pieces, Dhokla will be ready.
Process of making Tadka
Heat 2 tbsp of oil in a tadka pan. Put ½ tsp of mustard seeds in hot oil and let it crackle. When it crackles, add 1 tsp of sesame seeds and fry it lightly, then put 3 green chilies, chopped lengthwise, in it and turn off the flame and put some curry leaves in it.
Pour this tadka on the dhokla, in this way the chana dal rice dhokla will be ready. Serve it with green chutney and enjoy its taste.
Suggestions
Water should not be added while grinding chana dal and rice. If the batter is too thick, then only add 1-2 teaspoons of water to it.
The flame should be low-medium while steaming. If there is more steam then you can reduce the flame slightly.
Chana Dal Rice Dhokla Quick Recipe

Tags
Categories
Chana Dal Rice Dhokla Quick Recipe
Nisha Madhulika
Rating:

5.00

out of

5