Gond ke Laddu with Jaggery - A Winter Special Recipe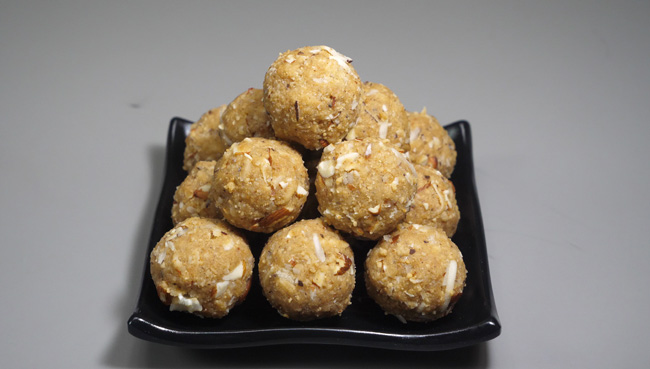 To give strength in winters, today we are going to make soft and delicious laddus of gum. It is very easy to make them and with this method you can keep them for more than a month and eat them. These are very beneficial for children and adults as well as for the elderly. So this winter you also make laddus with this easy method and give strength to your family while saving them from this winter.
Ingredients for Gond Laddu
Wheat Flour - 1 cup (150 grams)
Ghee - ½ cup (150 grams)
Milk - 3 tbsp
Gond - 50 grams
Almond Flakes - ½ cup (50 grams)
Dry Coconut - ½ cup (50 grams), grated
Jaggery - 1 cup (200 grams)
Cardamom - 8, crushed
Dry Ginger Powder - 1 tsp
Process of making Rava
In a bowl, add 1 cup (150 grams) of wheat flour and 4 tbsp of ghee and mix it well. Then add 3 tbsp of milk to it and mix it well. After mixing, cover it and keep it for half an hour.
After the time is up, break it well and make it like a dough back. Then strain the rice by pressing it with a sieve. Sieve all the rava on a plate.
Process of frying Gond
Put ghee (½ cup of ghee which is left after mixing in the flour) in a pan and heat it lightly. Flame will be low-medium and ghee should also be less than medium hot. Break 50 grams of gum in hot ghee and fry it in half. When the gum swells and its color becomes light golden, take it out and fry the rest of the gum in the same way. After frying, take out the gum on a plate.
Process of roasting Rava
After frying the gum, put rava in the remaining ghee and fry it. Roast it on low-medium flame while stirring continuously. When its color becomes dark, add ½ cup of almond flakes and ½ cup of grated dry coconut. Fry them for a while, then take them out in a big bowl.
Process of making Jaggery Syrup
Clean the same kadhai, break 1 cup of jaggery and add ¼ cup of water to it. Cook it while stirring for a while till the jaggery melts. After the jaggery melts, when the syrup starts foaming, then turn off the flame, the syrup will be ready.
Process of making Laddu Mixture
Break the fried gum with the help of a rolling pin, remember not to make powder, just break them. Mix them well and put them in a bowl along with the rava. Then make a space in the middle and put jaggery syrup in it while filtering it. Also, add 8 coarsely crushed small cardamom and 1 tsp of dry ginger to it. Mix them well with the help of a spoon and keep it for 10 minutes.
Process of binding Laddus
After 10 minutes the mixture will have cooled slightly. Put some ghee on your hand and tie as big or small laddus as you like. In this way, gond laddus will be ready. Eat them with your family and increase the strength of the body in this cold.
Suggestions
Measure the milk and ghee in the flour.
The flame will remain low-medium while roasting the rava.
Ghee should not be too hot while frying the gum, because of this the gum will not be able to fry completely.
Measure the water in the jaggery syrup and add it.
Gond ke Laddu with Jaggery - A Winter Special Recipe

Tags
Categories
Gond ke Laddu with Jaggery - A Winter Special Recipe
Nisha Madhulika
Rating:

5.00

out of

5