Eggless Chocolate Cup Cake Recipe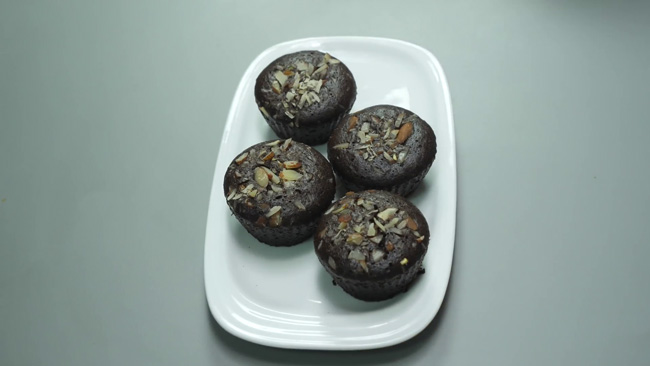 Children are very fond of eating cakes or cupcakes, but feeding outside on a daily basis is also not right for their health. So today we are going to make Chocolate Cupcakes. We will prepare these with very few ingredients and in very less time. So with this easy method, you can also make this cupcake and eat it yourself and feed it to your children too.
Ingredients for Chocolate Cupcake
Refined Flour - ¼ cup (35 grams)
Corn flour - 1 tbsp
Cocoa Powder - 1 tbsp
Sugar Powder - ¼ cup (35 grams)
Baking Soda - ⅛ tsp
Baking Powder - ½ tsp
Olive Oil - 1 tbsp
Milk - 3.5 tbsp
Vinegar - ½ tsp
Vanilla Essence - ¼ tsp
Almond Flakes - a little
Process of making batter
Place a sieve in a bowl and add ¼ cup (35 grams) of all purpose flour, 1 tbsp of corn flour, 1 tbsp of cocoa powder, ¼ cup (35 grams) of sugar powder, ½ tsp of baking powder and ⅛ tsp of baking soda. Filter them while mixing, then mix them well with a spoon.
Now in another bowl add 1 tbsp of olive oil (you can use butter or refined oil instead), 3 tbsp of milk (boiled at normal temperature), ½ tsp of vinegar and ¼ tsp of vanilla essence. Mix them well, then add it to the dry ingredients and mix them all well. If it seems too thick, then add ½ tbsp of milk and mix it well. In this way the batter will be ready.
Process of steaming cake
Pour the batter little by little in the cupcake mould, you can also take aluminum foil instead of the mould. Do not fill the mold completely as it will swell. Fill them with a little tap and make them uniform, then put some almond flakes on them.
Now take a steamer, or you can put 2 cups of water in the pan and keep a sieve over it. Let the water come to a boil, then place the cupcake molds on the sieve. Put a cloth on the lid and tie it well, then cover the sieve with it. By doing this the steam that will be created, the cloth will absorb it and water will not fall on the cake.
Let them steam for 20 minutes on low-medium flame. When the time is up, they will be ready, take them off and cool them. When it cools down, take out the cake from the mold and keep it on a plate, serve it and enjoy its taste.
Suggestions
All the ingredients have to be measured in the batter.
Steam them on low-medium flame only.
You can keep them in the fridge and eat them for 7 days.
Eggless Chocolate Cup Cake Recipe

Tags
Categories
Eggless Chocolate Cup Cake Recipe
Nisha Madhulika
Rating:

5.00

out of

5