Spicy Amla Chhunda Recipe without Sugar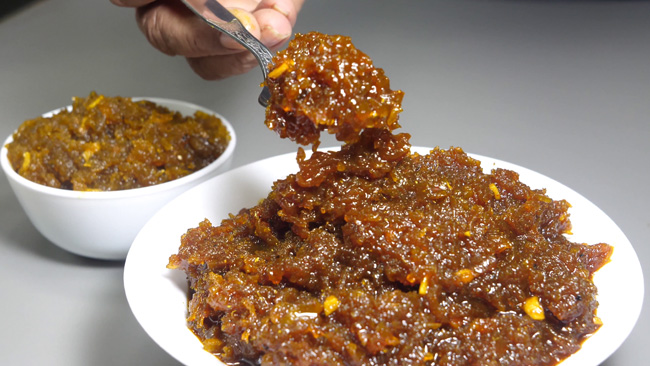 To get warm this winter season, today we are going to make spicy amla chhunda. While the winters are increasing on one hand, along with it, diseases have also left no stone unturned. Our today's recipe is to avoid this cold and disease. You can make this gooseberry powder once and keep it for a year and eat it. Our today's recipe will be made in such a way that all the nutritional elements of amla will get absorbed in this chhunda.
Ingredients for Amla Chunda
Amla - 500 grams
Jaggery - 500 grams
Ginger - 1.5 inch, finely chopped
Black Salt - 1.5 tsp
Black Pepper - 1 tsp, coarsely grinded
Cardamom - 8, coarsely grinded
Cinnamon - 2, 1 inch each
Turmeric Powder - 1 tsp
Kashmiri Red Chilli -1.5 tsp
Garam Masala - ½ tsp
Lemon - 2
Process of steaming Amla
Put 2-3 cups of water in a vessel, cover and heat it till it comes to a boil. When it comes to a boil, put a sieve over the vessel and put 500 grams of gooseberry in it. Now cover it and cook for 10 minutes on medium flame. After the time is over, reduce the flame to low and put the knife in a gooseberry and see, it will be going inside easily means that the gooseberries are steamed. Take them off and cool them.
Process of making Chhunda
When it cools down, grate the gooseberry with a fine grater. Grate and remove the seeds. Grate all the gooseberries in the same way. Then break the grated gooseberry and 500 grams of jaggery and put it in the pan. Cook them by mixing them on low-medium flame.
Mix it well and cook it while stirring it for a while. After cooking for 5 minutes, when the gooseberry leaves the juice, then add 1.5 inch of finely chopped ginger, 1.5 tsp of black salt, 1 tsp of coarsely ground black pepper, 8 small cardamom peeled and coarsely crushed and 2 cinnamon sticks of 1 inch each.
Mix them well and add 1 tsp of turmeric to it. Then cook till the juice dries up and mixes well with the gooseberry, stirring it once in a while. Remember the flame will be medium as it will burn from below on high flame.
After 10 minutes, drop it with a spoon and see, it is ready when juice and gooseberry are together. Take out some chhunda in a bowl, this is for those who like to eat less spices.
After taking out a bowl of chhunda, add 1.5 tsp of kashmiri red chilli and ½ tsp of garam masala to the remaining chhunda. Mix them well and turn off the flame, the spicy chhunda will be ready.
Then take out the juice of 2 lemons and mix it in a little spicy chunda and mix it by adding a little less spice to the chunda. In this way both types of chhundas will be ready.
Suggestions
When the chhunda cools down completely, store it in a glass or ceramic container.
Jaggery and grated gooseberries have to be cooked on low-medium flame only.
When the chhunda comes to cook, there should be little juice left in it, so do not dry it completely.
Spicy Amla Chhunda Recipe without Sugar

Tags
Categories
Spicy Amla Chhunda Recipe without Sugar
Nisha Madhulika
Rating:

5.00

out of

5