Crispy Maddur Vada Recipe without onion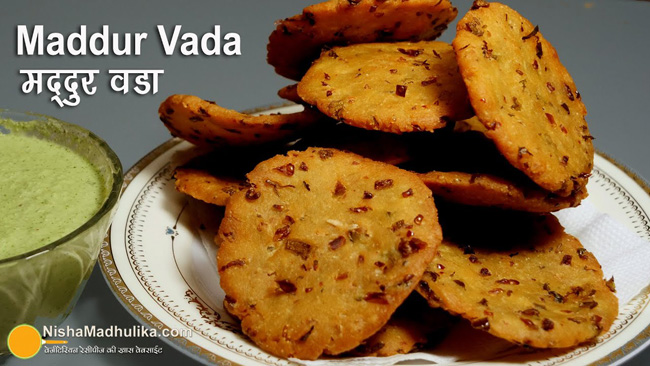 Maddur Vada is a very famous and traditional dish of South India. It is very easy to make them. Today we will make Maddur Vada and Coconut Peanut Chutney. These vadas will turn out very crispy and delicious and you will love to make them again and again. You can make them for breakfast in the morning. You can also make it as a snack in the evening. So make these spicy Maddur Vada with chutney and enjoy.
Ingredients for Maddur Vada
Rice Flour - 1 cup (150 grams)
Semolina - ½ cup (90 grams)
Refined Flour - ½ cup (65 grams)
Salt - ¾ tsp
Cumin Seeds - ¾ tsp
Red Chilli - ½ tsp
Green Chilli - 2, finely chopped
Asafoetida - 1 pinch
Ginger - 1 tsp, grated
Capsicum - ¼ cup, finely chopped
Cauliflower - ½ cup, finely chopped
Curry Leaves - 15-20, finely chopped
Coriander Leaves - 2-3 tbsp
Oil - 3 tbsp
For Chutney
Coconut - ¾ cup, grated
Roasted Peanut - ¼ cup, roasted
Coriander Leaves - ¼ cup
Green Chilli - 2
Lemon - 1, small
Salt - ¾ tsp
Oil for frying
Process of making dough
Sieve 1 cup of rice flour and ½ cup of semolina in a bowl. Then dry roast ½ cup of all purpose flour in a pan till it changes color. Put this roasted all purpose flour in the bowl along with the flour. Then add ¾ tsp of salt, ¾ tsp of cumin, ½ tsp of red chilli, 2 finely chopped green chillies, 1 pinch of asafoetida, 1 tsp of grated ginger, ¼ cup of finely chopped capsicum, ½ cup of finely chopped cabbage, 15-20 finely chopped curry leaves and 2-3 tbsp of finely chopped green coriander.
Now mix them well, then put 3 tbsp of oil in the pan and heat it till the smoke rises well. When hot, put oil in the flour and mix it with the help of a spoon. When it cools down, mix it well with your hands and add little by little water and knead it into a stiff dough. Now cover it and keep it for 10-15 minutes.
Process of making Coconut Peanut Chutney
Put ¾ cup of grated coconut, ¼ cup of roasted peeled peanuts, ¼ cup of green coriander, 2 green chilies, juice of 1 small lemon, 2-3 tbsp of water and ¾ tsp of salt in a mixer jar. Grind it finely, then take it out in a bowl. Put some water in the jar and take out the rest of the chutney. In this way coconut peanut chutney will be ready.
Process of making Maddur Vada
Take some oil on your hand and mash the dough. Now make a peda by breaking a little dough, then make it thin by pressing on the palm itself. Make all in the same way. Heat oil in the pan, remember the oil should be medium-high and the flame should be medium.
Put as many vadas as you can in hot oil for frying. Fry them for 2 minutes, then turn them over and over again till they turn golden brown in color from both the sides. Fry all the vadas in the same way, the maddur vadas will be ready. Serve them with coconut chutney and enjoy the taste of these crispy Maddur Vada.
Suggestions
The dough has to be kneaded a little hard.
For frying Maddur Vada, the oil should be medium hot and the flame should also be medium.
If you like to eat onions, then while mixing spices and vegetables in the dough, finely chop 1 big onion and put it in it.
Crispy Maddur Vada Recipe without onion

Tags
Categories
Crispy Maddur Vada Recipe without onion
Nisha Madhulika
Rating:

5.00

out of

5