Til Coconut Peanut Laddu No Sugar No Ghee Recipe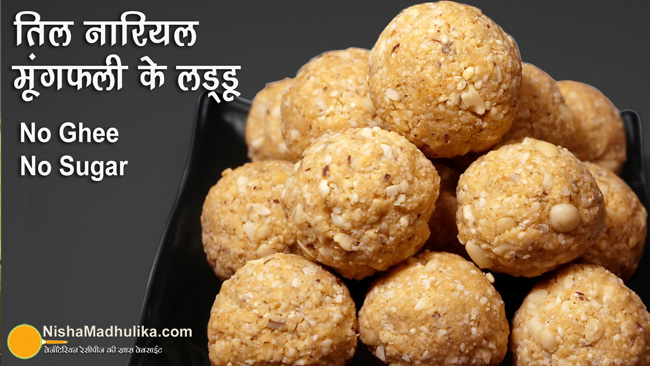 It is very beneficial to eat sesame coconut groundnut ladoos in cold weather. It is very easy to make them, so with this easy method today we are going to make these delicious ladoos of sesame coconut groundnut. We will prepare them by making them without ghee and sugar. They are rich in proteins and energy. Eat these with your family members every day. This increases immunity.
Ingredients for Til Peanut Coconut Laddu
Sesame Seeds - 1 cup (130 grams)
Roasted Peanut - 1 cup (170 grams)
Dry Coconut - 1 cup (100 grams)
Jaggery - 300 grams
Green Cardamom - 10, coarsely grounded
Process of making Mixture for Laddu
Put 1 cup (130 grams) of sesame seeds in the pan and fry it. Fry them while stirring continuously till they change color and puff up. Cook them on medium flame only, then take them out when they are cooked. After wiping the pan, add 1 cup (100 grams) of grated dry coconut and fry it while stirring continuously till it changes color. After roasting, take it out and put it with sesame seeds and cool it.
When the sesame seeds and coconut cool down, put them in a mixer jar and grind them lightly. Grind it and take it out in a bowl. Now put 1 cup (170 grams) of roasted peeled peanuts in a mixer jar and grind them coarsely and take them out in the same bowl.
Process of making Chashni
Put 300 grams of jaggery and 1 tbsp of water in the pan and cook it on low-medium flame. Cook it till the jaggery melts and it starts foaming. Remember, you have to keep stirring it once in a while. In this way jaggery syrup will be ready. Turn off the flame and filter the jaggery and put it in the bowl containing the laddu mixture. Now add 10 coarsely ground cardamom to it and mix it well.
Process of making Til Coconut Peanut Laddu
Mix the mixture well and make laddus hot. Remember, laddoos will not be able to form once the mixture cools down. Apply a little ghee in your hand and make as big or small laddoos as you want. Keep it on a plate and make the rest in the same way, Sesame Coconut Peanut Ladoo will be ready. Eat them one by one every day and enjoy their taste.
Suggestions
You can eat these laddus the whole winter.
Do not fry sesame seeds too much, take them out as soon as they swell lightly.
While making jaggery syrup, cook it till the jaggery dissolves and foam comes.
Til Coconut Peanut Laddu No Sugar No Ghee Recipe

Tags
Categories
Til Coconut Peanut Laddu No Sugar No Ghee Recipe
Nisha Madhulika
Rating:

5.00

out of

5