Summer Special Black Carrot Kanji Recipe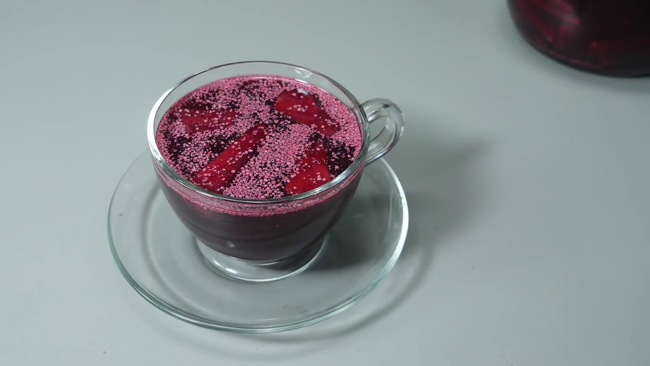 There is a lot of sale of black carrots in the summer season, especially around the festival of Holi. Today we are going to make Kanji from this black carrot. It is made during festivals, because we eat a lot of fried roast at this time and the kanji digests them all well. So on the occasion of any special festival, you also make it and serve kanji in a glass with food, the guests and family will be very happy.
Ingredients for Kanji
Black Carrot - 2 (400 grams)
Black Mustard Seeds - 2 tbsp, coarsely grounded
Salt - 1 tsp
Black Salt - 2 tsp
Black Pepper - ½ tsp, coarsely grounded
Asafoetida - 1 pinch
Process of making Kanji
Boil 2 liters of water in a pot, then cover it when it comes to a boil. Wash and dry two black carrots and peel them. After peeling, wash them again and cut them into thin and long pieces. Grind 4 tbsp of mustard seeds coarsely in a mixer jar. If they will not grind in one go, then after seeing them grind them one by one and then grind them again so that they are coarsely ground.
After this, wash a glass jar with hot water and dry it. Add chopped carrot, 1 tsp of plain salt, 2 tsp of black salt, ½ tsp of coarsely ground black pepper, 1 pinch of asafoetida and 2 tbsp of coarsely ground mustard seeds to it. Now mix them well, then add boiled water to it, mix it well and cover it with a cotton cloth.
Cover it and keep it in the sun for 3 days and keep it inside in the evening. If there is no sunlight, keep a warm place in the kitchen. On the fourth day, open it and mix it and serve, in this way it will be ready.
Suggestions
You can drink Kanji by keeping it outside for 7 days and keep it in the fridge and drink it for 15 days.
If you take 2 liters of water, then only 3 tsp of salt have to be added, 1 tsp of plain salt and 2 tsp of black salt.
Summer Special Black Carrot Kanji Recipe

Tags
Categories
Summer Special Black Carrot Kanji Recipe
Nisha Madhulika
Rating:

5.00

out of

5