Rodga - Vidarbha Special Recipe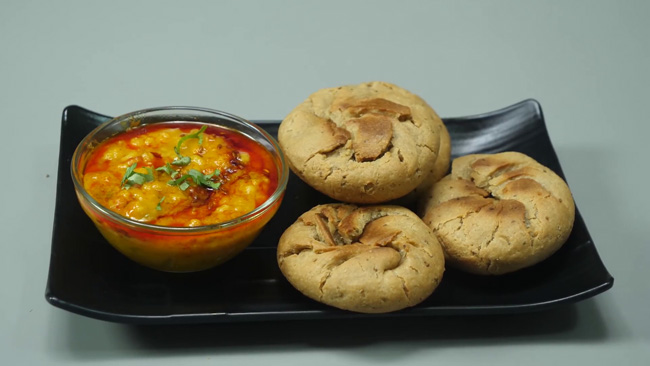 Rodgas of Vidarbha are very famous, they are absolutely crunchy from outside and soft from inside. Baati of Rajasthan, Litti of Bihar, Baffle of Malwa and Rodge of Vidarbha look similar but are completely different in taste. Also, these four are made in a completely different way. Rodgas are so delicious to eat that you would love to eat them again and again. So you also make this special dish of Vidarbha and enjoy its taste.
Ingredients for Rodge
For Dough
Wheat Flour - 1.5 Cup (225 grams)
Semolina - ¼ Cup (45 grams)
Salt - more than 1/2 tsp
Carom Seeds - 1 tsp
Desi Ghee - 3 tbsp
For Dal
Desi Ghee - 2 tbsp
Tuvar Peas - ½ Cup
Mung Beans - 2 tbsp
Cloves - लौंग - 2
Black Pepper - 7-8
Cumin Seeds - ½ tsp
Turmeric Powder - ¼ tsp
Coriander Powder - 1 tsp
Asafoetida - ½ a pinch
Tomato - 1
Green Chilli - 2
Ginger - ½ inch baton
Red Chilli - 1/4 tsp, coarsely ground
Salt - 1/2 tsp
Coriander Leaves - 2 tsp
For Tadka
Desi Ghee - 2 tsp
Cumin Seeds - ¼ tsp
Kashmiri Red Chilli - ¼ tsp
Process of making dough
Put 1.5 cups of wheat flour, ¼ cup of semolina, a little more than ½ tsp of salt, 1 tsp of carom seeds (crush and put it in) and 1.5 tsp of ghee in a bowl. Now after mixing them well, add little water and knead the dough like paratha but a little hard. Knead it and keep it covered for half an hour.
Process of making Rodga
Take some ghee on your hand and mash the dough well. Divide this dough into 4 equal parts. Take one part and divide it into two equal parts and break the other part into two parts, one small part and one slightly bigger. Now first round the big part by pressing a little and roll it into a width of 3-4 inches, do not make it too thin, keep it thick. Round the second and third parts in the same way and roll them out thick.
Now spread some ghee on top of the badi poori and spread it all around, then spread some dry flour on it. Put a small puri on it and spread ghee and dry flour on it as well. Then keep the smallest poori and spread ghee and dry flour on it as well. Now lift it from the corners and close it by pressing it in the middle. Close it by pressing it well from all sides and make it like a round peda. In this way, the rodgas will be ready, make the rest in the same way.
Process of baking Rodga
Put 2 cups of salt in a thick-bottomed pan, cover it with a mesh stand and heat it for 6-7 minutes. Place the rodgas on a plate with ghee from both the sides. Keep this plate in the hot pan, then cover it and bake it on medium-high flame for 15-20 minutes. After the time is up, cover it and bake it for 15 minutes each till it turns golden brown from both the sides. In this way, the rodgas will be baked and ready.
Process of making Dal
Wash and soak ½ cup of arhar dal and 2 tbsp of moong dal in a bowl and keep it aside for 15 minutes. When the time is up, put 2 tbsp of ghee in the cooker and heat it. Reduce the flame to low and put 2 cloves, 7-8 black pepper, ½ tsp of cumin, ¼ tsp of turmeric, 1 tsp of coriander powder and ½ pinch of asafoetida in hot ghee. Fry them a little and add tomato-green chili-ginger (1 tomato, 2 green chilies and ½ inch of ginger) paste to it. Now fry it while stirring it for a while till the ghee separates.
When lightly roasted, add ¼ tsp of crushed red chili and fry till the ghee separates. After the spices are roasted, drain out the water and put it dal in the cooker and mix it well. Then add 1.5 cups of water and ½ tsp of salt and mix it. Close the cooker and cook on high flame till one whistle. After a whistle, reduce the flame to low and cook for 3 minutes.
When the time is up, let the pressure release from the cooker, then add some green coriander to the dal and mix. Dal will be ready. Now heat 2 tbsp of ghee in a tadka pan. Add ¼ tsp of cumin seeds in hot ghee, after roasting cumin, immediately turn off the gas. Then add tsp ¼ red of chili and mix it, pour the tadka on the dal and stir it lightly. The tadka dal will be ready.
Now make a small space in the rodgas with a spoon and pour ghee on it. Then serve rodgas with dal and enjoy their taste.
Suggestions
Knead the dough lightly.
The flame will remain medium-high while baking the rodgas and keep checking them after every 15 minutes.
Rodga - Vidarbha Special Recipe

Tags
Categories
Rodga - Vidarbha Special Recipe
Nisha Madhulika
Rating:

5.00

out of

5