Special Recipe of Urad Dal Ki Chandiya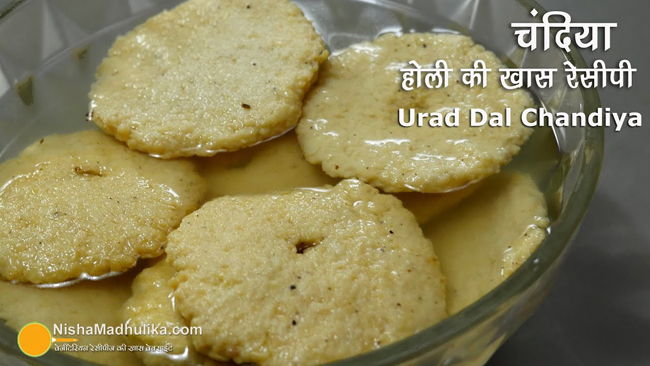 Chandiya is made from urad dal. If your stomach gets disturbed after eating and eating in marriage or parties, then it will be cured by eating it. Today we will make this traditional recipe, it is prepared on the second day of Holi. It is very easy to create it. You can make it in a jiffy, and the taste is also amazing.
Ingredients for Chandiya
Urad Dal (soaked) - 1 cup (200 grams)
Salt - 1.5 tsp
Rock salt - ½ tsp
Black pepper - ¼ tsp, coarsely crushed
Asafoetida - 1 pinch
Oil for frying
Process of making batter
Wash and soak 1 cup of urad dal in water for 2 hours. After the time is up, remove the water in the mixer jar and grind the urad dal coarsely. Remember, it has to be grinded intermittently, grind it one by one and mix it with a spoon. Then grind it again and mix it in the same way, in this way the lentils will be coarsely ground. In this way the lentils will be ground and ready.
Put lentils, ½ tsp of salt and ¼ tsp of crushed black pepper in a bowl and beat the dal well for 2 minutes. Batter for Chandiya will be ready.
Process of frying Chandiya
Heat oil in the pan, the flame will be medium and the oil should be heated to medium-high. Keep the cloth on the bowl and hold it well from the back so that the cloth from the front becomes very tight in the roundness of the bowl. Now hold the cloth with one hand, apply a little water on the cloth, then after applying a little water on the hand, take some batter and keep it round on the cloth. Now apply some water on the hand and increase it by making it round, do not make it too thin, keep it slightly thick. Enlarge it lightly and pierce it with your finger in the middle.
Now take it off the cloth and put it in hot oil carefully. Similarly, put as many as can come in the pan at once. Also remember when making new chandiya, first apply water on the cloth or else it will not be able to come out from the cloth. Fry them over and over till they become light golden. Prepare all the chandiyas by frying in the same way.
Process of serving Chandiya
In a large bowl add 1 liter of water, 1 tsp of salt, ½ tsp of black salt and 1 pinch of asafoetida and mix well. Now soak all the chandiyas in water and keep them soaked for half an hour. When the time is up, keep some chandiyas on a plate. Put some black salt and some cumin powder on it and serve.
Take out some chandiyas in another plate. Prepare and pour curd on them the way curd is whipped for dahi vada. Then put some sweet chutney, some green chutney, some black salt, some roasted cumin powder and some red chili on it. Serve them like this.
Suggestions
While grinding the lentils, do not put water in it at all and grind it very coarsely.
Special Recipe of Urad Dal Ki Chandiya

Tags
Categories
Special Recipe of Urad Dal Ki Chandiya
Nisha Madhulika
Rating:

5.00

out of

5