Soft Til Gud Ladoo Recipe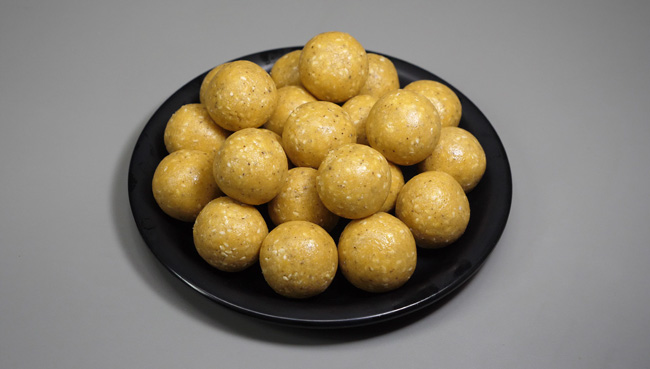 Today, on the occasion of Makar Sankranti, we are going to make Tilgud ladoos. It is very easy to make them and their taste will also be very different. The way of making them is somewhat different. It will protect you from the cold in the winter season. So you too make these special flavored laddus with this easy recipe and enjoy its taste with your family.
Ingredients for Til Gud Ke Laddu
Sesame Seeds - 1.5 Cup (200 grams)
Coconut - 1 Cup, (75 grams) grated
Milk - 1/2 Litre
Jaggery - 1.5 Cup (300 grams)
Ghee - 1 tbsp
Cardamom - 10
Process of making Ladoo
Heat the pan to medium, then add 1.5 cups of sesame seeds and fry while stirring continuously. When there is a slight change in its color and they swell lightly, turn off the flame and take them out. Then put 1 cup of grated coconut in the same pan and fry it while stirring continuously till it becomes slightly crisp. Remember that their color should not change, take them out when they become slightly crisp.
Put 1 liter of milk in the same pan and let the milk boil on high flame. When it comes to boil, cook it while stirring it for a while, remember that the malai has to be removed from the edges as well. When they become thick, reduce the flame to low-medium and cook it for 2 more minutes while stirring continuously.
When it becomes like mawa, break 1.5 cups of jaggery into it, remember that the jaggery should be very clean because we cannot filter it. Mix them well, add 1 tbsp of ghee and cook till the jaggery melts. It has to be cooked on a very low flame, keep stirring it for a while.
Meanwhile, put roasted sesame seeds (¼ cup to be saved), roasted grated coconut and 4 small cardamoms in a mixer jar and grind them lightly. Grind the mixture and take it out in a bowl, remember to keep stirring the jaggery in between. Now turn up the flame a little and cook till light foam comes.
When the jaggery starts foaming, turn off the flame and add the ground mixture and the remaining whole sesame seeds and mix it well. Mix it well and take it out in a bowl and cool it slightly so that you can touch it. When it cools down, apply some ghee on the hand and lift some of the mixture and tie the laddus. In this way tilkut laddus will be ready, feed them one to children and elders daily. It will protect you from the cold.
Suggestions
Do not darken the sesame and coconut too much, otherwise their taste will deteriorate.
While thickening the milk, keep stirring it frequently.
As soon as the milk becomes thick, add jaggery to it and cook till it becomes frothy.

Tags
Categories
Soft Til Gud Ladoo Recipe
Nisha Madhulika
Rating:

5.00

out of

5