Dahi Baingan Special Recipe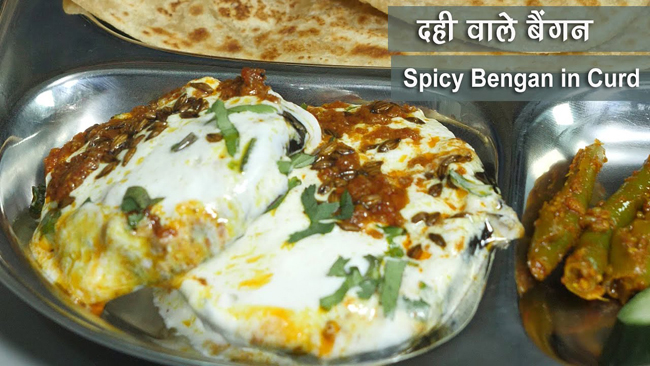 Today we are going to make curd baingan curry. It has the taste of vegetables as well as raita. This vegetable is made with a very easy method and it tastes great even in food. This is a special recipe and you will always remember its taste. Also, it is very easy to make and if you eat it once, you will want to eat it again and again.
Ingredients for Curd Eggplant Curry
Eggplant - 1
Salt - 1 tsp
Oil - 3-4 tbsp
For Masala
Oil- 2 tsp
Cloves - 3
Black Pepper - 7-8
Coriander Powder - 1.5 tsp
Turmeric Powder - 1/2 tsp
Cumin Seeds Powder - 1 tsp
Tomato - 1
Green Chilli - 2
Ginger - 1/2 inch
Kashmiri Red Chilli - 1 tsp
Salt - 1/2 tsp
Garam Masala - 1/2 tsp
लेयर्स के लिए For Layers
Curd - 15 cup, whipped
Oil - 1 tbsp
Cumin Seeds - 1/2 tsp
Red Chilli - 2
Process of cutting Eggplant
Take some water in a bowl and add 1 tsp of salt to it and mix it well. Now take 1 brinjal and cut its stalk and remove it. Cut ½ cm thick slices of this brinjal, simultaneously keep putting them in the bowl in which water and salt were kept, this will not make the slices black. Dip all the slices in salt water, the brinjal will be ready after cutting.
Process of frying slices of Eggplant
Put 3-4 tbsp of oil in a pan and heat it. After the oil becomes hot, reduce the flame to low and put a few slices of brinjal in it and roast it from both the sides till it turns light brown. After they become light brown from both the sides, take them out and fry the rest in the same way. Eggplant slices will be ready after frying.
Process of making Masala
Put 2 tbsp of oil in the same pan and heat it. When the oil is hot, add 3 cloves, 7-8 black pepper, 1.5 tsp of coriander powder, ½ tsp of turmeric powder and 1 tsp of cumin powder and fry it lightly on medium flame. Then add 1 tomato, 2 green chilies and ½ inch of ginger and 1 tsp of kashmiri red chili in it. Now turn up the flame a little and fry the spices well while stirring it once in a while till the oil separates from it.
When the masala becomes slightly thick, add ½ tsp of salt and ½ tsp of garam masala and fry them while stirring once in a while. After the oil separates from the masala, the masala will be roasted, now turn off the gas.
Process of assembling Dahi Baingan
Beat 1.5 cups of fresh curd well. Now keep some masala in the bottom of a vessel. Then put some fried brinjal slices on it and apply some spices on them. Now pour curd on them and cover them well with curd. Put some chaat masala and some green coriander on top of the curd.
Similarly, place a second layer on them, first some slices, then some masala on it, then curd on it and then chaat masala and green coriander. In the same way, fill the vessel by putting layers in it, curd eggplant curry will be ready. Serve it with roti or paratha and enjoy the taste.
Suggestions
While frying the slices of brinjal, do not make them too brown.
While frying the masala, do not darken it too much, while stirring, fry it till it leaves the oil.
The curd used for vegetable should be fresh and thick.

Tags
Categories
Dahi Baingan Special Recipe
Nisha Madhulika
Rating:

5.00

out of

5