Mawa Anarase Recipe - Khoya Anarsa Recipe - Anarse Recipe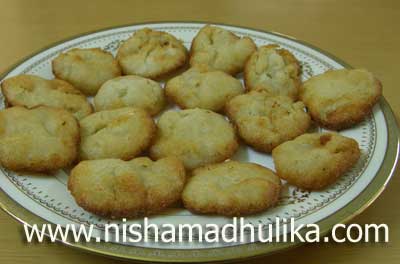 Mawa / Khoya Anarase sweet dish is more delicious and softer than normal Anarse dish.
इस पोस्ट को हिन्दी में पढ़ें
मावा अनरसे
Ingredients of Khoya Anarsa
Rice (small type) - 100 gm (1 cup)
Khoya - 100 gm (1/2 cup crumbled)
Sugar - 600 gm (1/3 cup)
Milk - 1 table spoon
Ghee - To fry
How to make Mawa Anarase
Wash the rice and soak it for 24 hours in water. Take out the rice from the water and wash it properly. Spread it on a cotton sheet and let them dry in shade for two hours.
Grind the rice into granules. Grate khoya so that it becomes powder. Grind the sugar. Mix grinded rice, khoya powder and grinded sugar, in a bowl. Apply milk and prepare hard dough. Cover the dough and keep it for 24 hours.
Pour the ghee in a frying pan and heat it. Take out little dough, keep it on the palm and make it flat.  Now put it in the hot ghee. Stir with a frying spoon in such a way that ghee keeps coming on top of the dough. When the sweet turns slightly brown, take it out on a plate. You can fry 2 to 3 anarase, at a time.
Prepare all the anarase by this method. You can eat this delicious sweet either hot or cold. You can also save it in a airtight container. It retains perfect taste for 8 to 10 days.
Mawa Anarase Recipe Video in Hindi

Tags
Categories
Mawa Anarase Recipe - Khoya Anarsa Recipe - Anarse Recipe
Nisha Madhulika
Rating:

5.00

out of

5