Karonda Chilli Pickle Recipe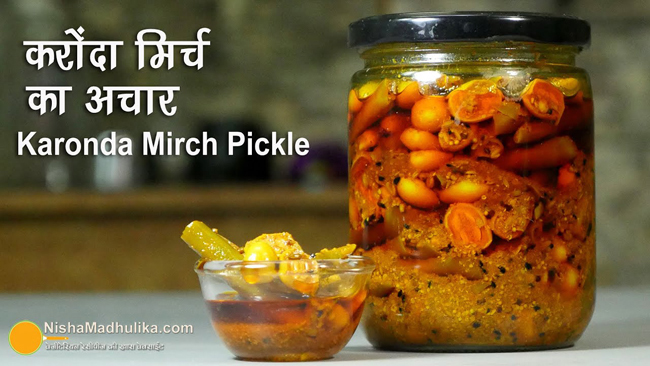 The sale of Karonda continues during the rainy season and they are also very beneficial for health. So to give them a spicy taste, today we are going to make Karonde Green Chilli Pickle. It is very spicy and you can make them with a very easy method. You can eat Karonda pickle by keeping it for a long time.
Ingredients for Karonda Pickle
Karoda - 150 grams
Green Chilli - 150 grams
Salt - 1 tsp
For Achar Masala
Fennel Seeds - 2 tbsp
Yellow Mustard - 2 tbsp
Fenugreek Seeds - 1 tsp
Cumin Seeds - ½ tsp
Mustard Oil - ½ cup
Black Mustard - 1 tsp
Fenugreek Seeds - ½ tsp
Fennel Seeds - 1 tsp
Carom Seeds - 1 tsp
Black Cumin - 1 tsp
Asafoetida - ½ tsp
Turmeric - 1 tsp
Salt - 1.25 tsp
Kashmiri Red Chilli - 1.5 tsp
White Vinegar - 2 tsp
Process of making Karonde and Green Chilli ready for Pickle
Wash and dry 150 grams of Karonde and 150 grams of Green Chillies. Now cut them while removing the stalks of the karonda. Also, if its seed is raw, then you can leave it and if there is a ripe seed and it is being cut while cutting with a knife, then remove it. Cut all the karondas like this and keep them in a bowl.
Now put 1 tsp of salt in that bowl and mix them well. Put them in a glass jar and keep it for a day. This will remove all the moisture of Karonde and Green Chillies. On the second day, separate all the water with the help of a sieve and keep them in that sieve for 5 minutes so that all the water drains out well. Take them out in a long tray and dry them for two hours. Dry it either by keeping it in the sun or by keeping it under a fan.
Process of making masala for Pickle
Put 2 tbsp of fennel seeds in a pan and fry it lightly. Now add 2 tbsp of yellow mustard, 1 tsp of fenugreek seeds and ½ tsp of cumin seeds and fry for 2-3 minutes. After frying, take them out on a plate and cool them. After cooling down, grind them lightly, it will be ready as a spice for pickles.
Process of making Pickle
Put ½ cup of mustard oil in a pan and heat it till the smoke rises well. When smoke rises, close the flame and cool down the oil slightly. When it cools down a bit (turn off the flame if the oil becomes too cold), add 1 tsp of black mustard seeds and let them crackle.
When it crackles, add ½ tsp of fenugreek seeds, 1 tsp of fennel, 1 tsp of carom seeds, 1 tsp of kalonji and fry it lightly. Turn off the flame when lightly roasted, now add ¼ tsp of asafoetida and let it roast for a bit more. After the spices are roasted, put karonda, green chilies and the spices which are roasted and grinded. Then add 1 tsp of turmeric powder, 1.25 tsp of salt and 1.5 tsp of kashmiri red chilli powder and mix it well.
After mixing well, add 2 tbsp of vinegar to it and mix it well. Karonde green chilli pickle will be ready.
Suggestions
Roast the spices on low flame and let them cool and grind them coarsely.
If you are putting vinegar in it, then there is no need to add too much oil and if you are not adding then keep the pickle immersed in oil.
You can keep this pickle for a whole year and eat it.

Tags
Categories
Karonda Chilli Pickle Recipe
Nisha Madhulika
Rating:

5.00

out of

5