Traditional Indian Sweet Dish, Ras Vada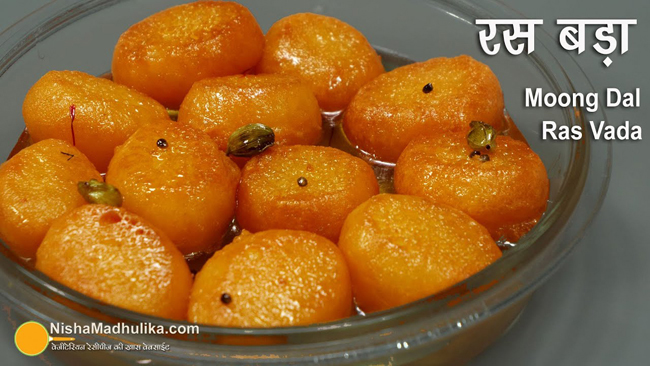 Rasgulla and Gulab Jamun have been eaten a lot but today we are going to make Rasbada, this is a traditional sweet and the method of making it is also very easy. They are very soft and juicy and their taste is also very special. If you make and eat it once, then you will forget about the outside rasgullas and gulab jamuns.
Ingredients for Ras Vada
Sugar - 1.5 cup (330 grams)
Moong Dal - ½ cup (120 grams)
Paneer - 100 grams
Cardamom - 4
Saffron - 10-12 strands
Oil for frying
Process of making Chashni
Put 1.5 cups of sugar and 1.5 cups of water in a pan and cook till the sugar dissolves in the water. When the sugar dissolves in water, add 4 crushed cardamom and 10-12 saffron threads (if there are no saffron threads then it can be removed). Cook it for 4 minutes because if wire syrup is not needed then it should not be cooked for long. After the time is over, check it one turn and apply it on the finger, if it is sticking, then the syrup will be ready.
Process of making batter for Ras Vada
Put ½ cup of washed moong dal (the lentils have to be washed and soaked in water for 2 hours) in a mixer jar and grind them very fine. Now break 100 grams of cottage cheese and put it in the lentils, add 3 tbsp of water and grind it finely. Remember, while grinding lentils and paneer, do not use water at all except 3 tablespoons of water. Take out the grounded batter in a bowl and beat it for 2-3 minutes, the batter will be ready for Rasbada.
Process of making Ras Vada
Heat oil in a pan, remember that the flame should be medium and the oil should also be medium hot. Now with the help of a spoon, put the batter in the pan and fry it for some time. Turn them when they turn brown from below, fry them till they turn golden brown from all sides. When it turns golden brown all around, take them out and put them in the syrup, make the rest in the same way. After frying, put them in the syrup and leave them in it for half an hour.
When the time is up, all the vada will have soaked the syrup, they will be ready. Serve them and enjoy their taste.
Suggestions
Very little water is to be used while grinding moong dal.
While deep frying, the oil should be medium hot and after frying a little, reduce the flame to low-medium and fry till it becomes golden brown.
Traditional Indian Sweet Dish, Ras Vada

Tags
Categories
Traditional Indian Sweet Dish, Ras Vada
Nisha Madhulika
Rating:

5.00

out of

5