Stuffed eggplant Achari Recipe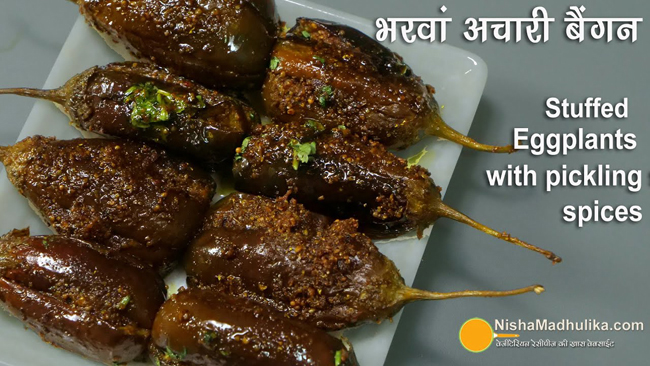 It happens many times that we feel like eating something spicy, but something that we do not eat everyday, we feel like making something new and eating it. Keeping this in mind, today we are going to make Achari Bharwa Baingan. This is a very spicy vegetable and it is also very easy to make.
Ingredients for Achari Baingan
Eggplant - 300 grams
Yellow Mustard Seeds - 2 tsp
Fennel Seeds - 2 tsp
Fenugreek Seeds - ½ tsp
Turmeric Powder - ½ tsp
Coriander Powder - 2 tsp
Red Chilli - ¾ tsp, crushed
Dry Mango Powder - ¾ tsp
Cumin Powder - ½ tsp
Garam Masala - ¼ tsp
Salt - 1 tsp
Asafoetida - 1 pinch
Green Chilli - 1, finely chopped
Mustard Oil - 2 tsp
Oil for Frying
Mustard Oil - 2-3 tbsp
Process of making Masala for Stuffed Baingan
In a plate take 2 tsp of yellow mustard, 2 tsp of fennel, 1 tsp of ground fenugreek seeds, ½ tsp of turmeric powder, 2 tsp of coriander powder, ¾ tsp of red chilli, ¾ tsp of amchur powder, ½ tsp of cumin powder, ¼ tsp of garam masala, 1 tsp of salt, 1 pinch of asafoetida, 1 finely chopped green chilli and 1 tsp of grated ginger. Now mix them well. After mixing the spices well, add 2 tsp of mustard oil and mix them well.
Process of filling Baingan
Wash and dry 300 grams of small brinjals. Now pick up a brinjal and hold it from the side of the stalk and cut it into four parts from the top side. Remember, don't cut the whole thing, leave it from the bottom. Cut all brinjals in the same way.
Now stuff the spices well in the middle of the cut brinjal and stick it. Stuff all the brinjals in the same way and paste them.
Process of frying Stuffed Baingan
Put 2-3 tbsp of oil in a pan and heat it. When the oil is hot, reduce the flame to low and place brinjals in it, they have to be cooked on low flame only. Now cover them and cook for 3 minutes. After the time is up, turn and cover them and cook them again for 3 minutes. Rotate them and cook them covered for 3 minutes from all sides. Cook in the same way till they become soft and brown from all sides.
Achari Bharwa Brinjal will be ready after it becomes nice brown and soft from all sides. Turn off the flame and serve them with parathas and enjoy their taste.
Suggestions
Mix the spices well and if there are no ground spices, then take whole spices, roast them and then cool them and grind them coarsely.
Take care while roasting the brinjal, watch it every 2-3 minutes and also turn it.
Stuffed eggplant Achari Recipe

Tags
Categories
Stuffed eggplant Achari Recipe
Nisha Madhulika
Rating:

5.00

out of

5