Baingan Fry Masala Recipe | Eggplant Masala Curry Recipe
Those who love baingan ki sabzi as well as those who don't, they too are going to love this baingan fry masala recipe. You don't need cream, malai, or dry fruits to make this curry delicious. So, prepare delicious baingan fry curry in minutes with detailed directions below.
Ingredients for Baingan Fry Masala:
Eggplant - 8 (250 gms)
Salt - 1/4 tsp ( for Eggplant)
Oil - 3 - 4 tbsp
Cumin Seeds - 1/2 tsp
Asafoetida - 1/2 a pinch
Dry Fenugreek Leaves - 1 tbsp
Turmeric Powder - 1/2 tsp
Tomato - 2
Ginger - 1/2 inch baton
Green Chilli - 1
Curd - 1/2 Cup
Coriander Powder - 1.5 tsp
Kashmiri Red Chilli - 1 tsp
Red Chilli - 1/4 tsp, coarsely ground
Garam Masala - 1/4 tsp
Salt - 1 tsp
Coriander Leaves - 2-3 tbsp
Baingan Fry Masala Recipe:
Take 8-eggplants and put two cuts from the bottom in a way it divides the brinjal into 4-parts. Cut open all the brinjal and apply salt to the inner side. We have used 1/4 tsp of salt for brinjals.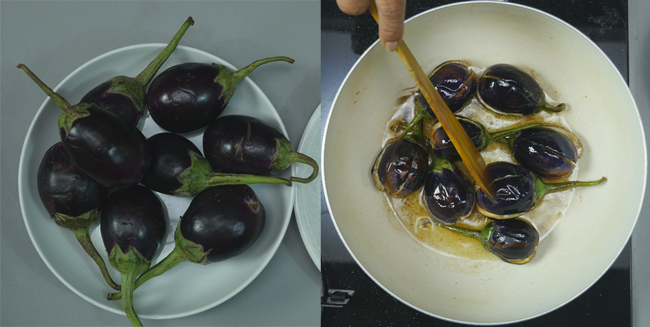 Now, heat 3-4 tsp of oil in the Kadai to fry brinjals. When the oil is hot, add brinjals and fry them over medium flame till they are firm and soft. Take out 1 tbsp of oil from the Kadai.
Add 1/2 tsp of cumin seeds, 1/2 pinch hing to the Kadai, and roast slightly. Add 1 tbsp of dry fenugreek leaves, 1/2 tsp of turmeric powder, and purée of 2-tomatoes-1/2 inch ginger-1green chili to the pan. Fry the masala till it becomes thick and releases oil.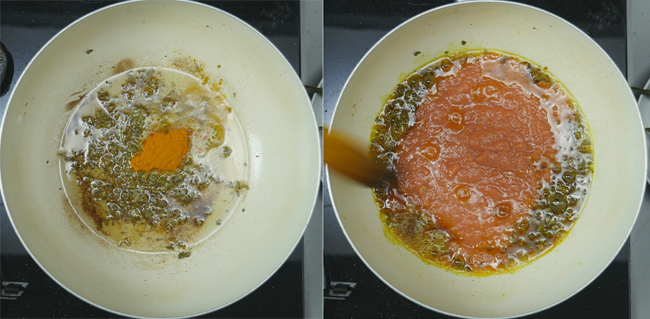 In 1/2 cup of fresh curd, mix 1.5 tsp of coriander powder, 1 tsp of red chili powder, 1/4 tsp of crushed red chili, and 1/4 tsp of garam masala.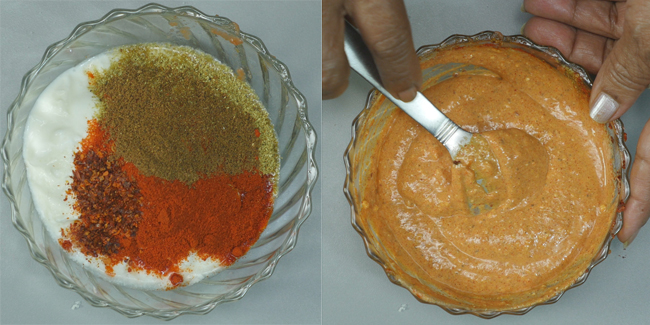 Whisk the curd well with the masala and add to the Kadai once the oil separates. Fry the masala and spiced curd for 2 minutes over low heat. Turn the flame low-medium after 2 minutes and fry the masala till the oil separates.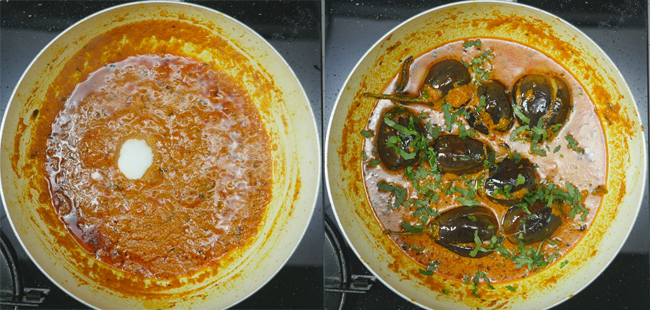 Add 1 tsp of salt and fried brinjals to the masala and mix well. Pour 1/2 cup of water, add chopped coriander leaves, and cover-cook the sabzi over low-medium heat for 3-4 minutes.
Baingan fry masala is ready to serve, transfer it to the serving bowl, and garnish with green coriander leaves. Serve it with chapati, paratha, naan, rice, or anything of your liking.
मसाला बैंगन फ्राई, दही की खास ग्रेवी वाले । Baingan fry masala recipe | Eggplant masala curry

Tags
Categories
Baingan Fry Masala Recipe | Eggplant Masala Curry Recipe
Nisha Madhulika
Rating:

5.00

out of

5