Homemade Schezwan Sauce Recipe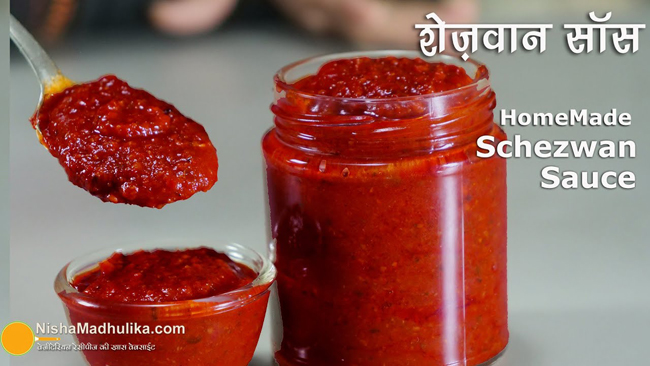 Schezwan sauce is a condiment served along with spring rolls and momos. It is also used to prepare schezwan fried rice, schezwan noodles, chili potatoes, and many other things. Today, you will learn how to prepare Schezwan Sauce at home. Let's get started.
Ingredients for Schezwan Sauce:
Kashmiri Red Chilli - 15 nos (15 gms)
Red Chilli - 20 nos (5 gms,)
Water - 3/4 Cup
Ginger - 2-inch baton
Oil - 1/4 Cup
Black Pepper - 1/2 tsp, coarsely ground
Oregano - 1/2 tsp (optional)
Coriander Stems - 2 tbsp
Salt - 1 tsp
Sugar - 2 tsp
Soya Sauce - 1/2 tsp
Tomato Sauce - 2 tbsp
Vinegar - 2 tbsp
How to prepare Schezwan sauce?
Take 15 grams/15 Kashmiri red chilies and 5 grams dried red chilies. You can take 15-grams of red chili powder instead of Kashmiri red chili. Pour 3/4 cup of water in a cooking vessel and bring it to a boil.

Add chilies to the boiling water, cover, and soak them for 20 minutes. Once the chilies are puffed, add them to the mixer blender using a tong or spoon. Add 2-inch ginger baton (chopped) and 2 tbsp of cold water to the mixer, and prepare a fine paste.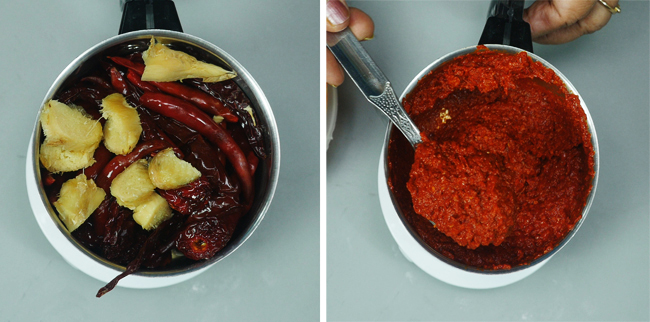 Heat 1/4 cup or 4 tbsp of oil in the pan. When the oil is hot, add chilies paste to the pan and roast it for 1-2 minutes. We are using sesame oil as it adds a slight sweetness to the sauce. You can use any refined oil for the preparation.
Alternative: If you want to add garlic flavor, then cook 1/4 cup of chopped garlic in the oil for 2 minutes. Next, add chili paste to the pan and cook garlic together with chilies paste.
Mix 1/2 tsp of crushed black pepper, 1 tsp of oregano (optional), 2 tbsp of coriander stems in the chili paste, and roast for 2 minutes. Add 1 tsp of salt, 2 tsp of sugar, and mix well.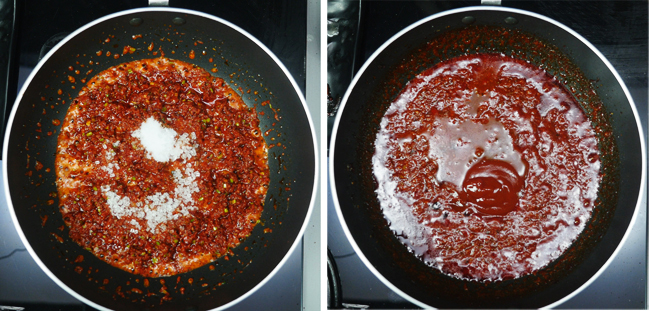 Once the oil starts to separate, take 1/2 cup of water used for boiling chilies, add it to the mixer jar, shake and pour it in the pan. Cover the pan and cook the mixture for 15 minutes.
Add 1/2 tsp of soya sauce, 2 tbsp of tomato sauce, 2 tbsp of apple cider vinegar, and mix well. Turn off the flame and allow the sauce to cool down.
Schezwan sauce is ready to be served. Enjoy it with spring rolls, momos, or any snacks you like.
शेज़वान सॉस घर पर बनायें | Homemade Schezwan Sauce Recipe

Tags
Categories
Homemade Schezwan Sauce Recipe
Nisha Madhulika
Rating:

5.00

out of

5