Winter Special Bajra Masala Poori Recipe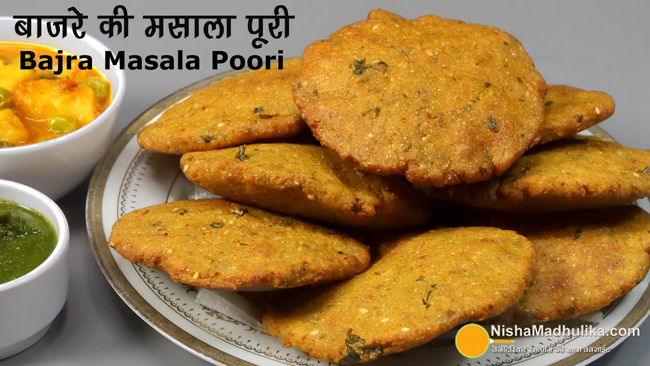 You must have had bajra parathas and chapatis during winters, but today, we have brought you Bajra Masala Poori. These puffed bread prepared with Bajra Flour (Pearl Millet Flour), grated potatoes, and spices are way too delicious and healthy.
Try this recipe today and enjoy it with aloo ki sabzi and chutney. Let's get started.
Ingredients Required for Bajra Masala Poori
Pearl Millets Flour (Bajra Flour) - 1 Cup (150 grams)
Potato - 3, boiled (200 grams)
Salt - 1/2 tsp
Cumin Seeds - 1/2 tsp
Carom Seeds - 1/2 tsp
Turmeric Powder - 1/4 tsp
Sesame Seeds - 1 tsp
Green Chilli - 2, finely chopped
Red Chilli Flakes - 1/2 tsp
Ginger - 1 tsp, grated
Coriander Leaves - 2-3 tbsp
and
Oil for Frying
Bajra Masala Poori Recipe
Take 3-boiled potatoes and grate them using a fine grater. Once done, add grated potatoes to 1 cup bajra flour.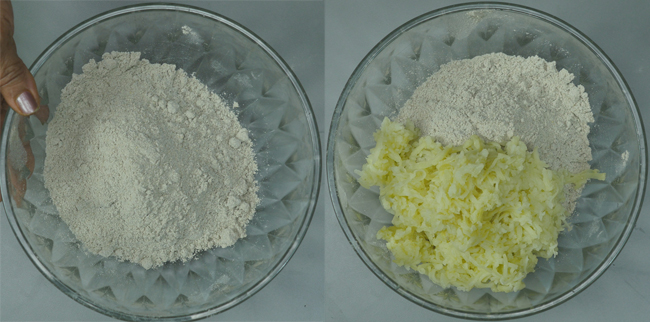 Add 1/2 tsp of salt, 1/2 tsp of cumin seeds, 1/2 tsp of carom seeds (after crushing), 1/4 tsp of turmeric powder, 1 tsp of sesame seeds, 2-finely chopped chilis, 1/2 tsp of chili flakes, 1 tsp of grated ginger, 2-3 tsp of coriander leaves to the Bajra flour and mix well.
Add water gradually and prepare a soft dough. Knead the dough for 2-3 minutes. Cover the dough and keep aside for 15 minutes to set.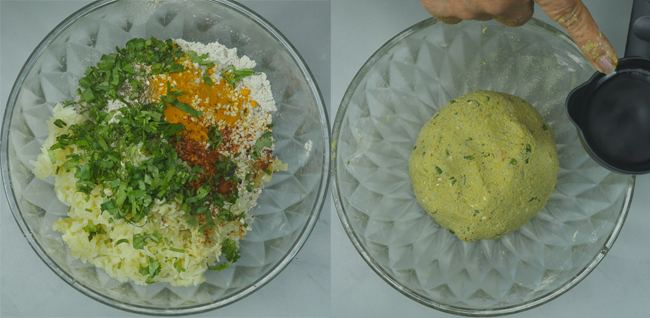 [After 15 minutes]
The dough is ready. Apply little oil to your hands and knead the dough for a few minutes. Break the dough into small balls and grease the rolling board and pin.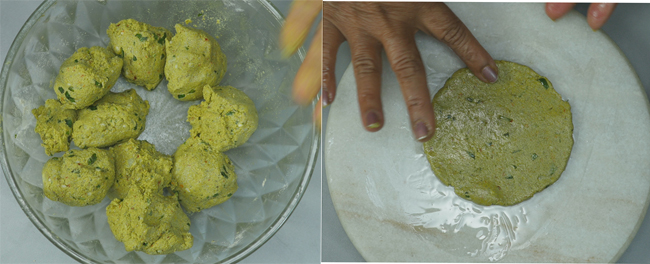 Take a dough ball, apply a little oil, and roll it into a slightly thick poori. Heat the oil in the Kadai/wok for frying. The oil should be medium-high hot and keep the flame medium.
Carefully lift and slide the poori in the oil. Once it comes up to the surface, press it down lightly with a spatula. Turn the poori to the other side when fried from below. Fry the poori till golden brown from both sides. Roll and fry all the pooris similarly.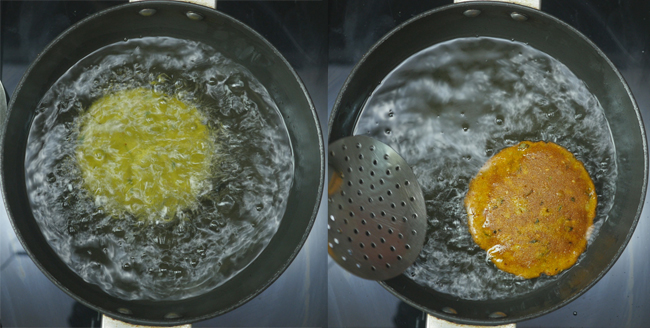 Bajra Masala poori is ready to be served. It is crispy and crunchy in texture. Serve it with aloo masala, aloo tomato, aloo matar, or any sabzi of your liking. Serve it together with chutney and everybody will love it.
बाजरे की चटपटी पूरी, कचौरी के स्वाद वाली । Bajra Poori for winter । Winter Special Gluten Free Puri

Tags
Categories
Winter Special Bajra Masala Poori Recipe
Nisha Madhulika
Rating:

5.00

out of

5