Winter Special Dry Fruit Laddu Recipe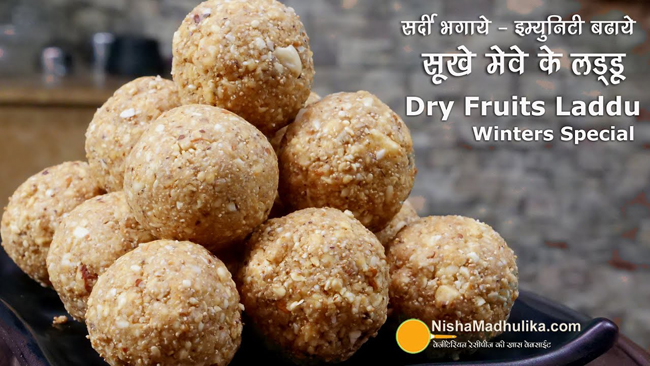 Well, those bone-chilling breeze in the morning and evening are shouting out aloud that winters are here. To protect yourself and your loved ones from cold winters, prepare dry fruits laddus, which will give warmth as well as energy to the body.
We don't need sugar, ghee, or flour for the preparation. So, prepare these immunity booster dry fruits laddus in a jiff.
Ingredients Required for Dry Fruit Laddu:
Peanut - 1/4 Cup, (45 grams)
Jaggery - 260 gms
Sesame Seeds - 1/4 Cup (35 grams)
Watermelon Seeds - 1/4 Cup (45 grams)
Poppy Seeds - 1/4 Cup (35 grams)
Dry Coconut - 1/2 Cup, grated (30grams)
Fox Nuts - 1 Cup (20 grams)
Almonds - 1/4 Cup (45 grams)
Dry Ginger Powder - 1 tsp
White Pepper - 1 tsp, coarsely ground
Nutmeg - 1 tsp, grated
Cardamom - 1 tsp, coarsely ground
Dry Fruit Laddu Recipe
Dry roast 1/2 cup of sesame seeds, 1/4 cup watermelon seeds, 1/2 cup of poppy seeds, 1/2 cup of grated dry coconut, 1 cup of fox nuts, 1/4 cup of almonds, 1/4 cup of peanuts separately till puffs up, change color slightly and become aromatic.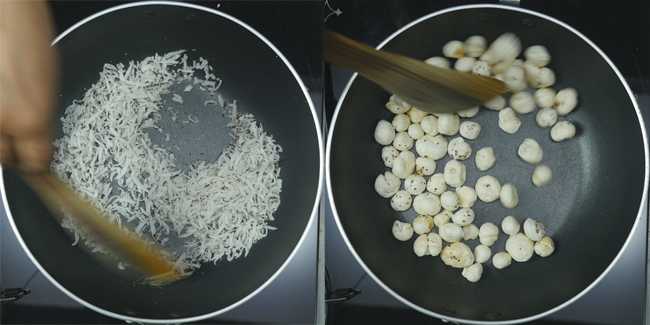 Now we will grind all the roasted dry fruits coarsely. Start with the one roasted first, coarsely grind sesame and watermelon seeds together. Grind narial & poppy seeds together, fox nuts (Makhana) separately, and almonds & peanuts together. Mix ground dry fruits together in a bowl.

Cut 260 grams of jaggery into pieces. Add the jaggery pieces and 3 tbsp of water to the Kadai and melt jaggery over medium heat. Stir the jaggery occasionally and break the jaggery chunks with a spatula.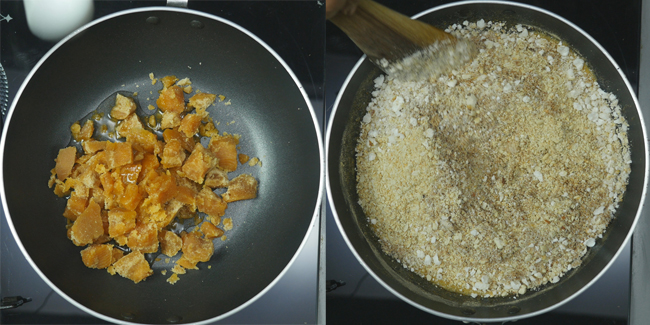 Once the jaggery melts and you can see foam in the syrup, turn the flame low and add spices. Add 1 tsp of sonth powder (Dry Ginger powder), 1 tsp of coarsely crushed white pepper, 1 tsp of grated nutmeg, 1 tsp of coarsely crushed cardamom, and mix everything well.
Alternative: If you don't have white pepper, then you can add black pepper instead.
Mix ground dry fruits in the jaggery syrup and turn off the flame. Take the mixture out in a bowl and allow it to cool down. Bind the laddus when the mixture is warm enough to be touched with bare hands.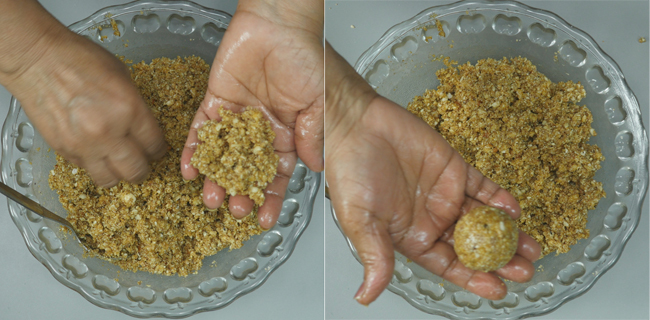 Apply ghee to your hands, take out some mixture, and bind the laddus using both hands. Laddu size can be as you please. Prepare laddus from the whole laddu mixture.
Protein and vitamin-rich dry fruit laddus are ready to be served. You can store these laddus for 2-months. Eat one laddu a day and protect your body from cold weather.
ड्राय फ्रूट्स लड्डू - सर्दी भगाये, इम्युनिटी बढा़ये । Dry fruit laddu for winter | Energy laddu

Tags
Categories
Winter Special Dry Fruit Laddu Recipe
Nisha Madhulika
Rating:

5.00

out of

5