Spicy Tamarind Rice Recipe | Easy Tangy Tamarind Rice Recipe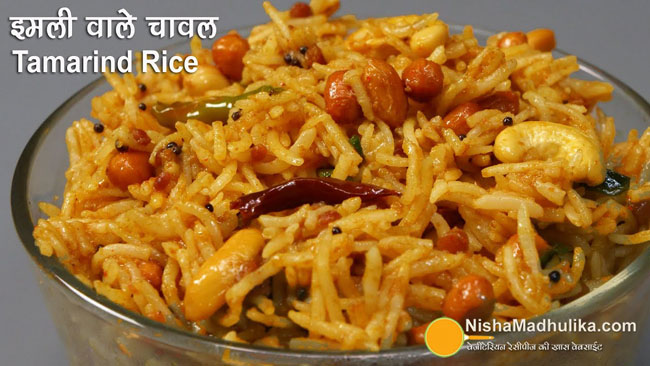 Tamarind Rice is a South Indian specialty, where rice is flavored with tamarind pulp to give it a spicy and piquant taste. Tamarind rice recipes have variants, but today we have shared this recipe to prepare it in a jiffy.
Let's begin the preparation.
Ingredients for Tamarind Rice:
Cooked Rice - 2 Cup
Tamarind - 40 gms
Jaggery - 1 tbsp
Oil - 2 tbsp
Peanut - 1/3 Cup
Cashews - 7- 8
Split Chickpea - 1 tsp
Split Black Gram Lentils - 1 tsp
Mustard Seeds - 1/2 tsp
Fenugreek Seeds - 1/8 tsp
Green Chilli - 2
Red Chilli - 2
Curry Leaves - 15 - 20
Asafoetida - 1/2 Pinch
Turmeric Powder - 1/4 tsp
Coriander Powder - 1 tsp
Cumin Powder - 1/2 tsp
Red Chilli Powder - 1/2 tsp
Salt - a little less than 1/2 tsp
Tamarind Rice Recipe:
Take 40 grams of tamarind, break it into pieces, and put it in a cooking pot. Add 1 tbsp of jaggery and 1/2 cup of water to the cooking pot and bring the water to a boil.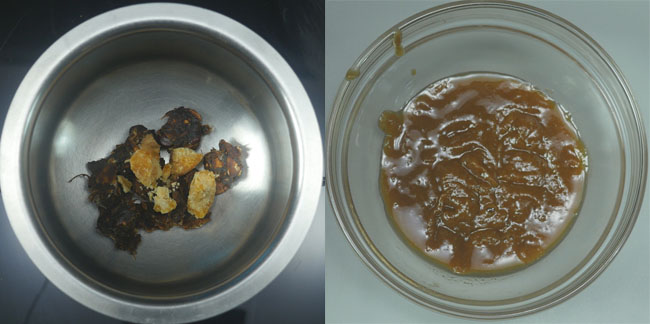 After a boil, mash the tamarind with a spoon and cook it till it becomes soft. After 3 or 4 minutes, turn off the flame, and cover the tamarind mixture.
Once the tamarind mixture cools down, strain out the pulp. We got around 2 tbsp of tamarind pulp.
Heat 2 tbsp of oil in a Kadai. Add 1/3 cup of peanuts to Kadai and roast over medium flame till it becomes crispy. Add 7-8 cashews to the Kadai when peanuts are almost ready. Roast the cashews till pinkish.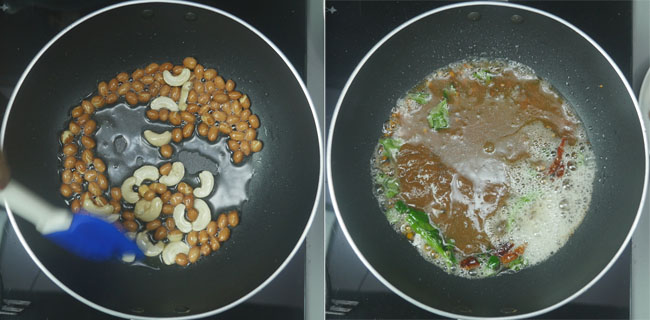 Next, put 1 tsp of chana dal, 1 tsp of urad dal in the pan and roast them lightly. Add 1/2 tsp of mustard seeds, 1/8 tsp of fenugreek seeds, and roast till the mustard crackle.
Mustard seeds started crackling; add 2-green chilies with a little cut on them, 3-dried red chilies (cut into halves), 15-20 curry leaves, 1/2 pinch hing, extracted tamarind pulp, 1/4 cup of water, and mix well.
Now, add 1/4 tsp of turmeric powder, 1 tsp of coriander powder, 1/2 tsp of cumin powder (optional), 1/2 tsp of Kashmiri red chili (as per your taste), 3/4 tsp of salt, and cook the masala till the oil separates.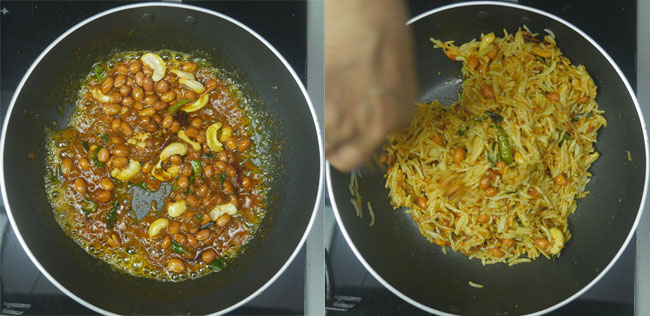 Once the oil starts to separate, add roasted cashews and peanuts and mix well. Turn off the flame and mix 2 cups of cooked rice with tamarind masala.
Tamarind rice is ready to be served. Prepare and enjoy tangy and spicy tamarind rice with your family.
इमली वाले खट्टे चावल । Spicy Tamarind Rice with leftover rice | Easy Tangy Tamarind rice recipe

Tags
Categories
Spicy Tamarind Rice Recipe | Easy Tangy Tamarind Rice Recipe
Nisha Madhulika
Rating:

5.00

out of

5