Paneer Lababdar Recipe | Shahi Paneer Lababdar Recipe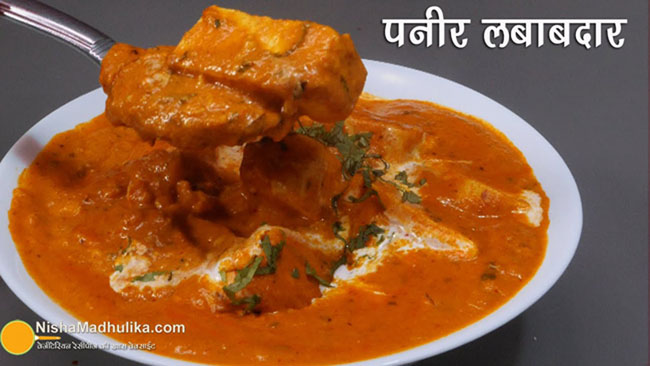 Paneer Lababdar is a special festive recipe, which is loved and enjoyed across the nation. The dish is quite common in every Indian restaurant because of its rich and creamy flavor. You can easily prepare this dish at home on any special occasion.
So, let's begin the preparation.
Ingredients required for Paneer Lababdar:
Tomato - 3
Green Chilli - 1
Ginger - 1/2 inch
Oil - 1 tbsp
Cumin Seeds - 1 tsp
Cinnamon - 1-inch stick
Cardamom - 2
Cloves - 3
Black Pepper - 6-7
Cashews - 10
Melon Seeds - 2 tbsp
Butter - 2 tbsp
Ginger - 1 tsp, chopped
Dry Fenugreek Leaves - 1 tbsp
Turmeric Powder - 1/2 tsp
Coriander Powder - 1 tsp
Red Chilli Powder - 1.5 tsp
Milk Cream - 1/4 Cup
Paneer - 50 grams, grated
Salt - a little less than 1 tsp
Paneer - 200 grams, cubed
Fresh Coriander - 2 tbsp
Sugar - 1/2 tsp
Cream - 1 tsp
Paneer Lababdar Recipe:
To prepare Paneer Lababdar, take 3-tomatoes, 1-green chili, and ½ inch ginger baton. Cut them into big pieces.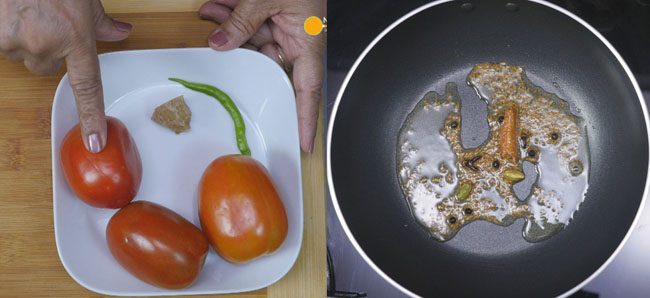 Heat 1 tbsp of oil in the pan. When the oil is hot, add 1 tsp of cumin seeds, 1-inch cinnamon stick, 2-cardamoms, 3-cloves, 6-7 black pepper, and roast the masala briefly.
Next, add the chopped tomatoes, green chili, and ginger to the pan. Cashews are a must in paneer Lababdar, so add 10-cashews to the pan.
Now, add 2 tbsp of melon seeds or any other seed you want. Add ¼ cup of water and mix well. Cover the pan with a lid and cook the ingredients over medium flame.
Alternative: If melon seeds are not available, then add more cashew.
Cook the ingredients until the tomatoes become firm. We have cooked the tomatoes for 10 minutes. Our masala is all cooked now. Turn off the flame.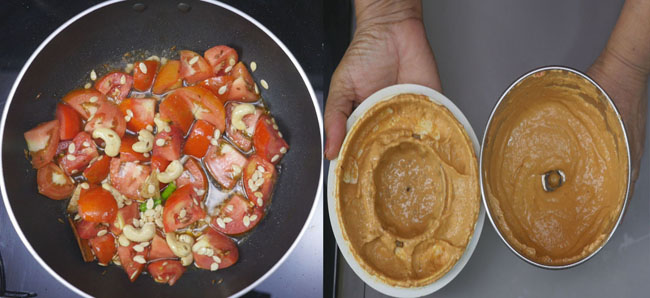 Allow the masala to cool down a bit and put it in a food processor or blender. Blend the ingredients to a fine paste.
Tips: If you like onion, then chop it similarly as tomatoes. After adding solid spices, add onion and roast until pinkish. Then, add other masala and ready the gravy.
Heat a pan and add 2 tbsp of butter. Add 1 tsp of finely chopped ginger, 1 tbsp of dry fenugreek (after crushing it with hands), ½ tsp of turmeric powder, and 1 tsp of coriander powder. Roast the masala briefly.
Now, add the tomato-spices paste to the pan. Add 1.5 tsp of Kashmiri red chili and mix well. Roast the masala over medium heat. Add ¼ cup fresh Malai and mix well.
Take 50 grams of paneer. Grate and add the paneer to the pan. Cook the gravy over low-medium heat. Add less than 1 tsp of salt (or as per your taste) to the gravy. Cover the pan and cook the gravy for 5 minutes.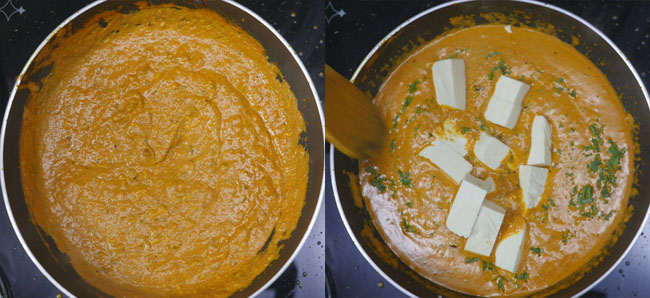 Cut 200 grams of paneer into cubes. Once done, check the gravy. The gravy is all cooked; we will add a little more than ½ cup of water and 2 tbsp of green coriander. Now, add the paneer pieces to the pan. Cover the pan and cook the sabzi for 5 minutes.
After that, add ½ tsp sugar to enhance the taste of gravy. Cover and cook the gravy for 2-more minutes over medium heat.
Tip: Adding sugar in the gravy is optional, you can prepare delicious Paneer Lababdar with or without sugar.
[After 2 minutes]
Paneer Lababdar is ready. Garnish the sabzi with cream and green coriander leaves. Paneer Lababdar is ready to be served. Serve this creamy and rich Paneer Lababdar with chapati, Nan, rice, or any side dish.
So, prepare this sabzi at home and have a happy meal with your family and friends.
क्रीमी ग्रेवी वाली खास करी पनीर लबाबदार । Paneer Lababdar Recipe without Onion and Garlic

Tags
Categories
Paneer Lababdar Recipe | Shahi Paneer Lababdar Recipe
Nisha Madhulika
Rating:

5.00

out of

5