Green Papaya Curry Recipe । Papaya Curry Without Coconut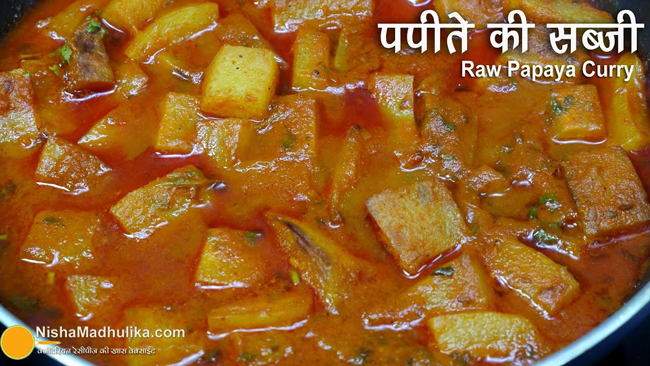 Do you often get confused as to which sabzi to prepare for lunch or dinner? Dear readers, just to resolve your confusion, we are here with a new recipe, Green papaya curry. The preparation requires no special ingredients or techniques. It gets ready in no time. So, let's get onto it.
Ingredients for Green Papaya Curry:
Raw Papaya - 600 grams
Oil - 2-3 tbsp
Cumin Seeds - 1/2 tsp
Turmeric Powder - 1/2 tsp
Coriander Powder - 1 tsp
Tomato - 2
Green Chilli - 2
Ginger - 1/2 inch baton
Kashmiri Red Chilli Powder - 1 tsp
Salt - 3/4 tsp
Garam Masala -1/4 tsp
Green Coriander - 1 tbsp
Green Papaya Curry Recipe:
Take 600 grams of raw papaya. Discard the stem of the papaya and cut it in half lengthways. Scoop out the seeds. Cut the papaya lengthways into long pieces and discard the thin white layer lining the cavity and green cover.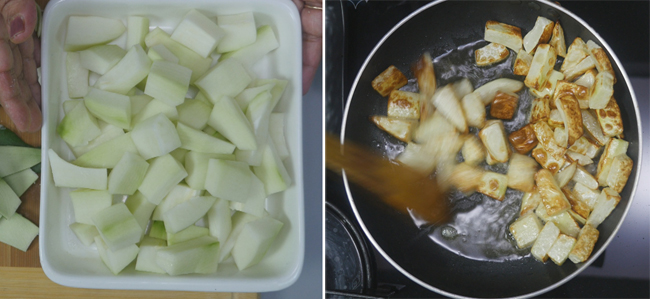 Further, cut the papaya into small-sized long and thin pieces. Heat a pan and add 2-3 tbsp of oil to it. When the oil is hot, add the chopped papayas to the pan. Keep the flame high. Sauté the papaya pieces until they turn soft.
Flip the pieces and sauté them from all sides until brown. If the papaya pieces are pressable or break when pressed, then they are all cooked.
Once done sautéing, take the papaya pieces out. Turn the flame to medium. There is too much oil in the pan, so take out the excess oil.
Now, we will prepare masala for the Sabzi. Add ½ tsp of cumin seeds, ½ tsp of turmeric powder, 1 tsp of coriander powder to the pan, and roast the masala.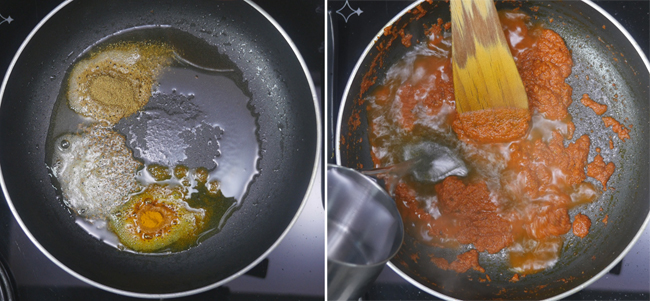 Take 2-tomatoes, 2-chilies, and ½ inch ginger baton. Prepare their purée and pour it in the pan. Now, fry the masala until the oil separates. Add 1 tsp of red chili powder to the gravy.
The oil has started to separate from the masala. Add ½ cup water and mix well. Now, add papaya pieces, ¾ tsp of salt, ¼ tsp of garam masala, and mix well. Cover the pan and simmer the sabzi for 5 minutes over medium heat.
Alternative: You can add onion, garlic, Hing (Asafoetida), or Kasuri methi to add a special flavor.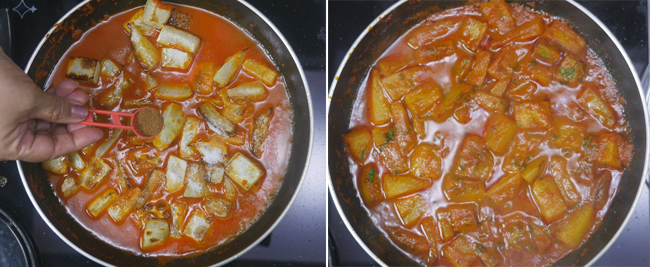 [After 5 minutes]
Our sabzi turned out so well. It has a nice texture and aroma. Transfer the sabzi to the serving bowl. Garnish with green coriander leaves and serve with rice, chapati, paratha, or any side dish.
So, prepare green papaya curry and enjoy it with your family.
Happy Meal!
कोई सब्जी न सूझे तो बनायें पपीते की खास सब्जी । Green Papaya Curry । Papaya Curry without coconut

Tags
Categories
Green Papaya Curry Recipe । Papaya Curry Without Coconut
Nisha Madhulika
Rating:

5.00

out of

5