Sooji Malai Laddu Recipe | Sooji laddu without khoya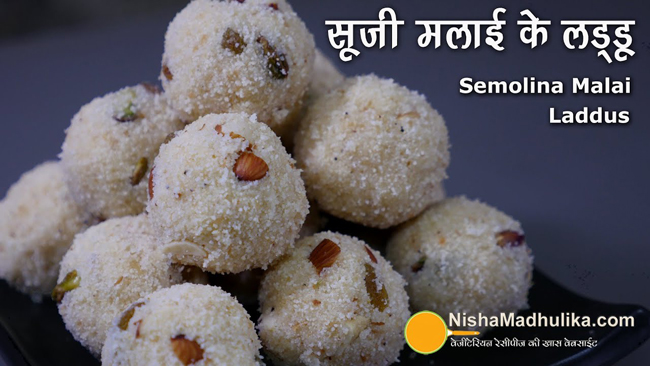 Are you experiencing sugar craving? Well then, you can try the Sooji Malai Laddu recipe at home. The recipe requires general ingredients that are available in every household. Moreover, you can have these Ladoos as dessert after any meal.
So, prepare these tasty Ladoos today.
Ingredients required for Sooji Malai Laddu Recipe:
Deshi ghee - ¼ cup (50 grams)
Semolina (Sooji) - 1 cup (200 grams)
Desiccated coconut - 2 to 3 tbsp
Almond - 8 to 10
Cashews - 8 to 10
Pista - 8 to 10
Milk cream (Malai) - ¼ cup
Sugar powder - 1 cup (160 grams)
Cardamom powder - ½ tsp
Milk - 1 to 2 tbsp
Raisin - 1 tbsp
Sooji Malai Laddu Recipe:
Heat a pan and add ¼ cup ghee. Then, add 1 cup semolina and roast it until you get a nice aroma. Roast the semolina on medium heat while stirring it continuously.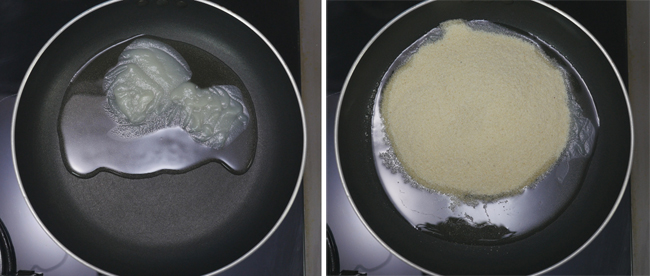 Additional: We have used normal semolina (Sooji) if you want, you can use finely ground semolina.
Do not roast semolina for too long as we don't want to change its colour. We just want a slight change in the semolina colour. After roasting the Sooji or semolina for 5 minutes, you will get a nice aroma from it.
Then, add 2-3 tbsp of desiccated coconut, mix and briefly roast it with sooji. Keep the flame medium. After roasting the coconut with sooji for 2 minutes, add dried fruits.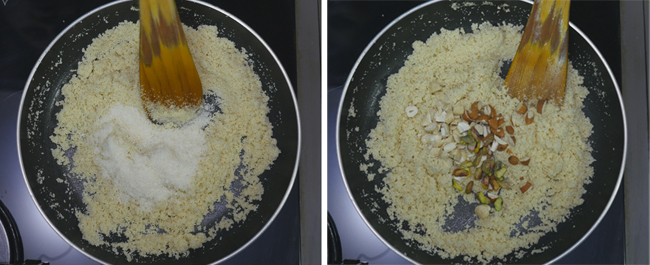 Take 8-10 chopped almonds, 8-10 cashews, and 8-10 pistachio. Again, roast the dried fruits with sooji for 2 minutes. Roasting will make the dried fruits crispy and tasty.
We have roasted the dried fruits for 2 minutes. Everything looks well-roasted. Turn off the stove.
We have roasted sooji with other ingredients for 9 minutes on medium heat. The sooji colour has changed as desired.
Now, take ¼ cup Malai (milk cream), 1 cup of sugar powder, ½ tsp of cardamom powder, and mix everything properly.
Alternative: If you don't have milk cream, you can use ¼ cup of milk instead.
Tip: If the sooji looks dry, then add 1 tbsp of milk. If you have milk cream, then add milk cream to the mixture.
Keep the sooji mixture consistency medium as to shape Laddoos easily. The extra amount of milk to be added will depend upon the liquidity of milk's cream. If the cream has a good amount of liquidity, you may or may not need milk.
Cover and leave the mixture for 5 minutes while it is still hot. After 5 minutes, take it out and leave it to cool down.
Once it cools down, add 1 tbsp raisins and mix it. The mixture is ready, so let's start shaping the laddoos. Roll and shape the whole mixture into medium-sized laddoos.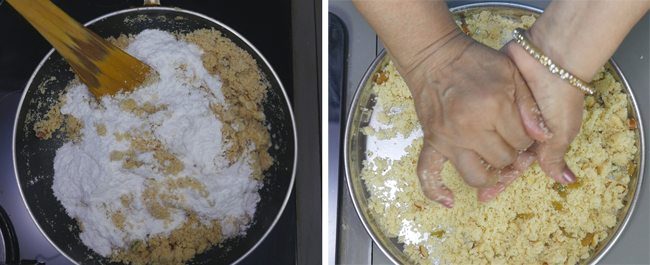 We have prepared 14 laddoos out of the prepared mixture. You can have them for about 8-10 days without refrigerating.
Prepare these soft and tasty Sooji Malai Laddoos at home and enjoy the Laddoos as dessert after any meal.
मीठे का मन है तो झटपट बना डालिये सूजी मलाई के लड्डू । Sooji Malai Laddu | Sooji ladoo wihout khoya

Tags
Categories
Sooji Malai Laddu Recipe | Sooji laddu without khoya
Nisha Madhulika
Rating:

5.00

out of

5