Mango Papad Recipe For Mango Lovers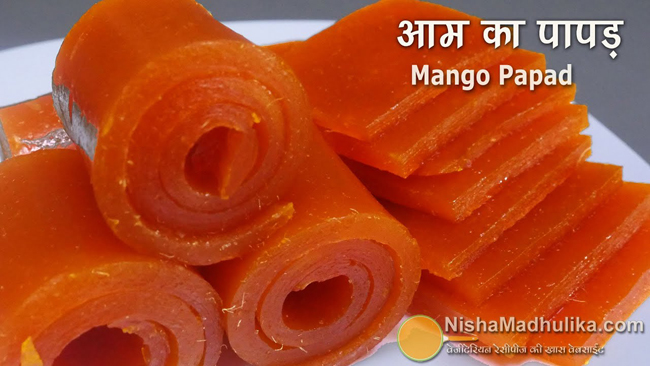 Nearly every Indian loves mangoes and its products. Now that mango season is at the peak, we are here with Mango Papad recipe (a.k.a amawat). It's a very delicious preparation that can be stored and eaten weeks later.
So, without any further ado let's start with the required ingredients for the recipe.
Essential Ingredients for Mango Papad Recipe:
Mangoes - 1.6 kg
Sugar - 1 cup (200 grams)
Lemon - 2 tbsp (2 lemon's juice)
Ghee - 2 tbsp
Procedure to make Mango Papad:
For making mango papad (aam papad), take 1.6 kg mangoes and extract the mango pulp in a bowl. Grind the mango pulp without adding water. We want to make a puree out of the pulp.

We'll get 1 kg of mango puree collectively. Now add the mango puree to a pan and light the stove. Add 1 cup sugar to the puree (for 1kg mango pulp we will add 200 grams sugar). Mix the sugar well and stir it continuously while cooking until the mixture becomes thick.
Caution- When the puree starts boiling, turn the flame to low-medium as the hot bubbles might eject droplets towards your face as they burst. Let it cook slowly while stirring it with little breaks.

The puree will get thicker with cooking, so cook it for 25 min. To make the papad sour-sweet (khatta meetha), take 2 lemons and extract their juice. Add the extracted (approx 2 tbsp) lemons juice to the puree and mix it well.
After that prepare two plates and coat them with 1 tbsp of ghee in each plate. Ghee coating will prevent the sticking of the mixture and ease the peeling process. Stir the puree again and add the mixture to the plates. Distribute the mixture evenly in the 2 plates. Further, let it dry in the sun for 2 days and cover the plates with a net food cover or a thin cloth.
After the papads get sun-dried, scrape the side, and peel the papad gently to avoid any damage. Finally, cut it or roll it. It's all up to you.

I hope you found this recipe easy, follow the instructions carefully, and enjoy your Mango papad this summer.
आम का पापड फटाफट बनायें । Mango Papad Recipe । Amawat Recipe | Aam ka Papad banane ki vidhi

Tags
Categories
Mango Papad Recipe For Mango Lovers
Nisha Madhulika
Rating:

5.00

out of

5