Indrahar Recipe | Indrahar ki sabzi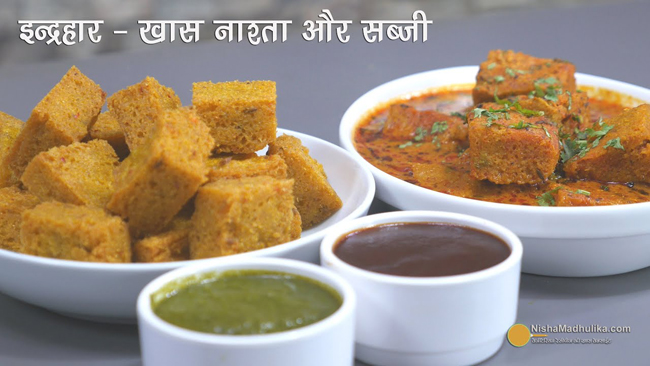 We are back with another traditional recipe known as Indrahar. This is a famous traditional recipe of Bagelkhand, Madhya Pradesh. The story that goes around with this recipe, "This dish is served to Lord Indra the king of devas, to make him happy."
Prepare this recipe at home today and make your family happy too. Let's get started.
Ingredients required for Indrahar Recipe:
The ingredients are divided into 2 categories which are as follows:
For Indrahar:
Mung dal - 3 tbsp
Arhar dal - 3 tbsp
Chana dal - 3 tbsp
Masoor dal - 3 tbsp
Urad dal - 3 tbsp
Green chilli - 2
Ginger Baton - ½ inch
Turmeric powder -½ tsp
Cumin seed - ½ tsp
Red chilli Powder - ½ tsp
Coriander Powder - 1 tsp
Asafoetida - ½ pinch
Salt - ¾ tsp
Oil for frying.
For Curry:
Tomato - 3
Green chilli - 1
Ginger Baton - ½ inch
Cumin seed - ½ tsp
Tej Patta - 1
Cinnamon stick - ½ in
Black pepper - 8
Cloves - 3
Black cardamom - 1
Kasuri Methi - 1 tbsp
Turmeric Coriander - ½ tsp
Coriander Powder - 1 tsp
Kashmiri Red chilli powder - ½ tsp
Curd - ¼ cup
Garam Masala - ¼ tsp
Salt - 1 tsp
Green coriander - 2 tbsp
Method - Indrahar Recipe:
The recipe requires 5 lentils (dal), such as Mung dal, Arhar dal (Pigeon pea), Chana dal (Split Chickpeas), Masoor dal, Urad dal (black lentils), etc.
All these lentils are available in every kitchen, so take 3 tsp of each lentil. Collectively, we will have 1 cup dal. Clean and wash the lentils well and then soak them. They will take 2-3 hours to puff.
Suggestion: If you are in a hurry, use warm water to soak the dal then, they will take 1 or 1.5 hours to puff.
[Blend lentils]
Take 2 green chillies (chopped), ½ inch ginger baton, and grind them. Take all the lentils and grind them coarsely with ginger and chilli paste. Add a little quantity of water and blend again.

Take out the coarsely ground lentil in a bowl. Add ½ tsp of turmeric powder, ½ tsp of cumin seeds, ½ tsp of red chilli, 1 tsp of coriander powder, ½ pinch Hing powder (asafoetida), and 3/4 tsp of salt. Beat the dal Batter for 4 mins to make it fluffy.
Suggestion: Don't put asafoetida more than ½ pinch. We don't want its taste to stand out.
[After 4 minutes]
Take a big plate and grease it with oil. Put the batter on the plate and spread it evenly. The batter shouldn't be of pouring consistency. Make the batter a bit thicker.
Take a container where the big plate can fit. Add 2 and ½ cup of water and boil it. When the water starts boiling, place the plate in the container.
Make the flame high, so that the steam can start to form well. When the steam starts forming well, turn the flame medium and let it cook for 20 min.
[After 20 minutes]
Insert a knife inside the Batter and pull it out. If the batter doesn't stick to the knife, then it is well-cooked. Take the plate out and let it cool down.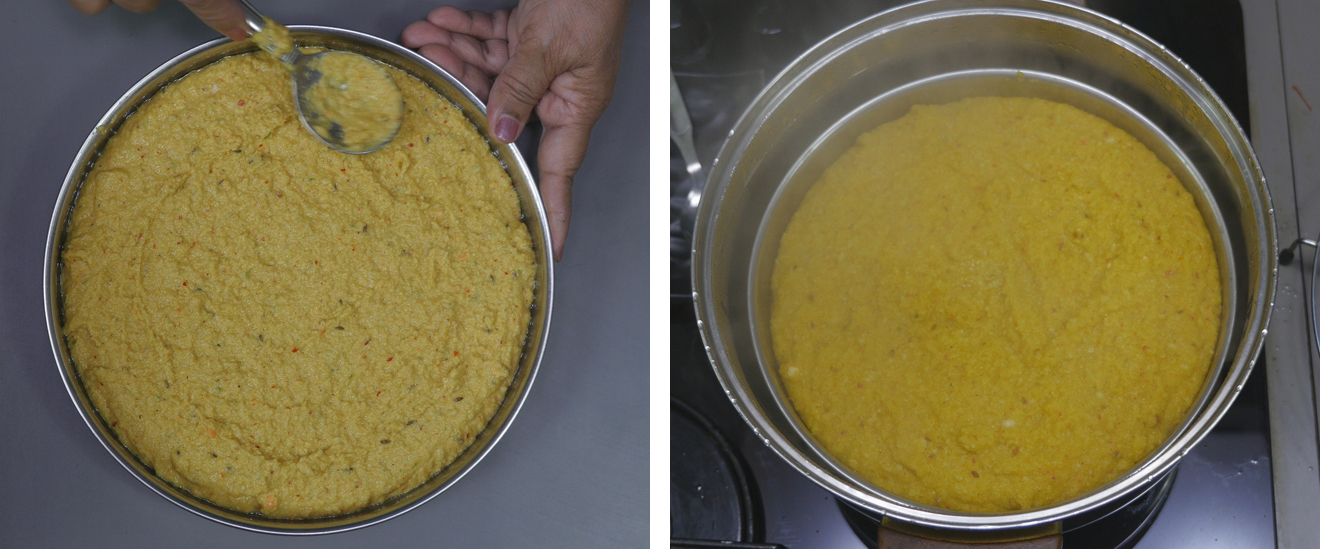 Once cooled down, cut the Indrahar into pieces. You can decide the size of the pieces yourself. Later scrape the pieces out on a plate and then pan fry them.
Heat the oil in the pan. Drop 1 piece in the oil to check the temperature. If it is roasting well, you can add the other pieces as well. We want well-heated oil and the flame should be high too.
The pieces are already cooked. We just have to crisp them from all sides. Fry them until the crust turns golden brown. You can either shallow fry or pan-fry the Indrahar.
Once they turn golden brown, take them out. Repeat the same procedure with the remaining Indrahar. One batch will take 3-4 minutes. You can have it as breakfast or make their sabzi or curry.
[Breakfast]
Let's make Indrahar breakfast. Serve Indrahar with green coriander chutney or with tomato sauce & have a healthy and tasty breakfast with your family.
[Make Sabji]
For making Indrahar Sabzi, take 3 tomatoes, 1 green chilli, ½ inch ginger baton, and blend them. Next, heat a pan and add 2 tbsp oil. when the oil is hot, add ½ tsp of cumin seed. Lower the flame to avoid burning of masala.
Now add Sabut masalas, 1 Tejpata (Bay Leaf), ½ inch cinnamon piece, 8 black pepper, 3 cloves, 1 Black cardamom, 1 tbsp of dry fenugreek (Kasuri methi), 1/2 tsp of turmeric powder, and 1 tsp of coriander powder.
Suggestion: Add the seeds of black cardamom. Crush the fenugreek with your hands before adding.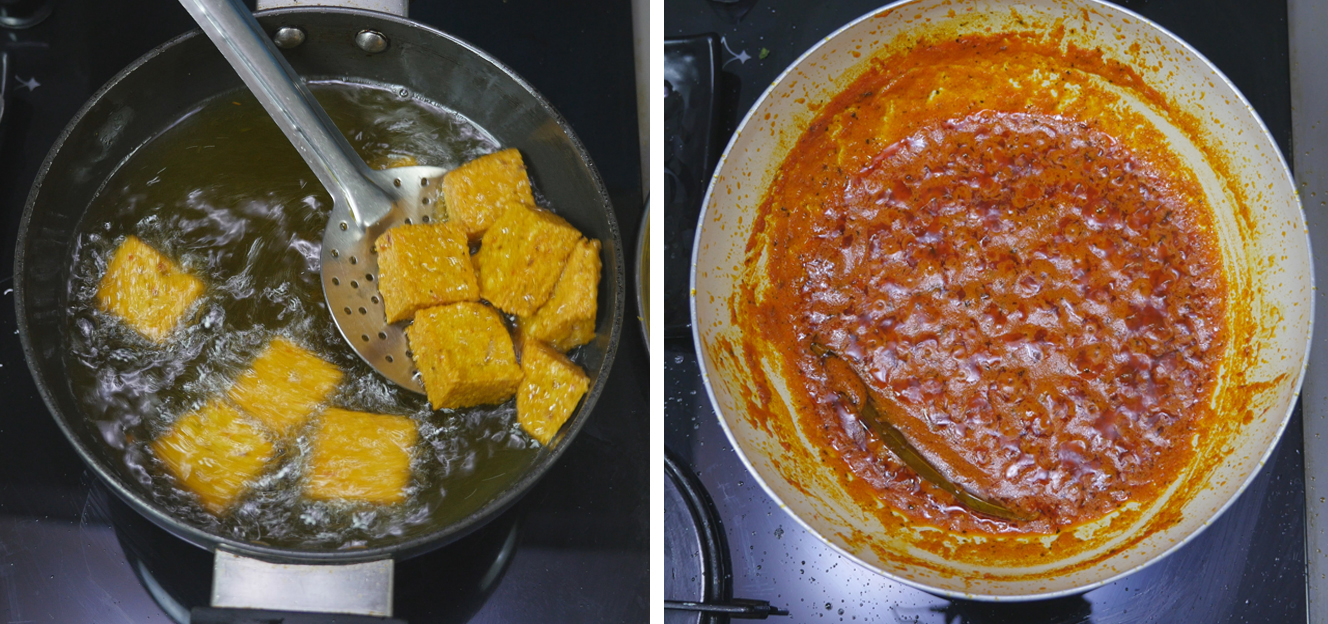 Add the tomato paste and then add 1 tsp of Kashmiri red chilli. Cook the masala while stirring it until the oil starts to separate. When the oil starts to separate, add ¼ cup of curd. This will enhance the taste of the sabzi.
Tip: If you are taking both deshi and hybrid tomatoes, then don't add curd.
After adding curd, stir it continuously until the sabzi starts boiling. Before adding curd, keep in mind to beat it first, also its temperature should be normal (at room temperature).
Once the oil starts to float above the gravy, you can add water. You can add water based on the consistency of the gravy you want. We have added 1.5 cups of water. Cook it while stirring until it starts boiling.
Now add the remaining Indrahar, 1/4 tsp of garam masala, less than 1/2 tsp of salt, a little amount of green coriander, and mix well. Let the sabzi cook for 5 min on low flame.
[After 5 minutes]
Indrahar ki sabzi is ready to be served. The colour and texture of the sabzi are perfect. Garnish the sabzi with green coriander. If there's a party or sudden guests, prepare this very easy Indrahar ki sabzi.
इन्द्रहार का नाश्ता व सब्जी - बघेलखंड की ट्रेडीशनल रेसीपी - Indarhar Recipe - Snacks n Curry

Tags
Categories
Indrahar Recipe | Indrahar ki sabzi
Nisha Madhulika
Rating:

5.00

out of

5