Idli Bomb Recipe | Steamed Suji Nastha with spicy stuffing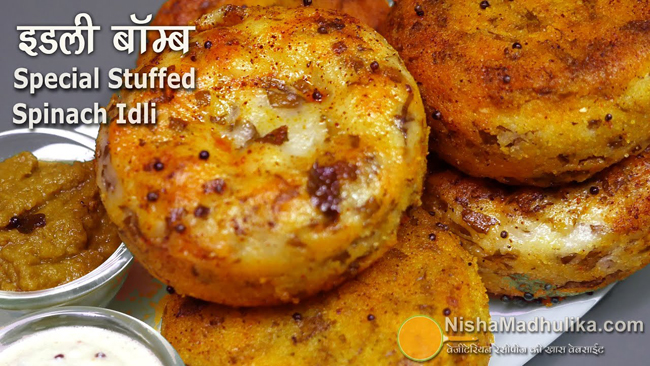 Ready for a Healthy Nastha? Today, we are here with an Idli-version of Suji (semolina) and veggies breakfast which is tasty, as well as, healthy. This recipe is called Idli Bomb. Prepare these Idli-bombs for breakfast or have it as "Shaam ka Nastha."
So, let's start with the ingredients.
Ingredients required for Idli Bomb:
We've divided the ingredients into three categories.
Ingredients for batter:
Semolina (Suji) - 1 cupHealthy NasthaIdli Bomb
Curd (Dahi) - 2/3 cup
Spinach (Palak) - 1 cup (finely chopped)
Green Chilli - 2
Ginger - 1/2 tsp (grated)
Salt - 1/2 tsp
Ingredients for Stuffing
Oil - 2 tsp
Black Mustard (Kali Sarso) - 1/4 tsp
Cumin Seeds (Jeera) - 1/4 tsp
Turmeric Powder - 1/4 tsp
Green Chilli - 1
Ginger -- 1/2 (grated)
Boiled Potatoes - 2 potatoes
Salt - 1/2 tsp
Red Chilli Powder - 1/2 tsp
Coriander Powder (Dhania Powder) - 1/2 tsp
Dry Mango Powder (Amchur Powder) - 1/4 tsp
Green Peas - 1 tsp
Ingredients for Tadka (tempering):
Oil - 2 tsp
Black Mustard (Kali Sarso) - 1/2 tsp
Curry Leave - 10-12 leaves
Turmeric Powder - 1/4 tsp
Salt - 1/4 tsp
Red Chilli Powder - 1/4 tsp

Now begins the actual work (cooking).
Preparing Suji Idli Bombs:
Suji (semolina) is a type of ingredient that can be prepared in different forms by adding various ingredients to it. So, we are going to make Idli bombs with Suji and vegetables which will be healthy for your gut and taste buds.
Step 1: Start with preparing batter
For preparing the batter, take 200 grams of Suji and add 2/3 cup of curd and mix it well. Any type of Suji (plan sooji or medium sooji) can be used. As for curd, you can take ½ cup to 1 cup (as per your preference) for preparing the batter.
Add a little amount of water in the batter to make it smooth. After properly stirring the batter, it will look thick. Later when Suji will absorb the water, the batter will become even thicker.
Next, add finely chopped spinach leaves, 2 green chillies, and ½ tsp of grated ginger; ½ tsp of salt (or as per your taste) and mix everything properly. If the batter looks too thick add a little amount of water and mix well.
Suggestion: The consistency of the batter should be similar to the normal idli batter.
Leave the batter for 10-15 min for the mixture to become set.
Step 2: Prepare the stuffing
Heat a pan and add 2 tsp of oil. When the oil is hot, add ¼ tsp of black mustard, ¼ tsp of cumin seeds, ¼ of turmeric powder, 1 finely chopped green chilli, ½ of grated ginger, and roast the mixture briefly.
Then, add 2 mashed potatoes (200 gram), ½ tsp of salt, ½ tsp of red chilli powder, ½ coriander powder, ¼ tsp of Amchur powder, and 1 tsp green peas. Briefly roast the stuffing and turn off the stove when the stuffing is ready.
Suggestion: You can use Chaat Masala instead of Amchur powder. Fresh or frozen green peas, either of them can be used or else you can prepare the stuffing without using peas.
Make little balls of stuffing to stuff it inside the Idli. There should be 1 ball for each Idli.
Step 3: Making of Idli bomb
Our batter is ready, stuffing is ready, let's get on to the Idli making process. Take small bowls and grease the entire bowl (from inside) with oil.
Add 1 tsp of Eno fruit salt and 1 tsp of water in the batter after 10-15 mins. Mix it properly.
Alternative: You can use baking soda instead of Eno fruit salt.
Next, add 2 tsp of the batter in the small bowl and spread it evenly. Take 1 ball of stuffing and put it inside the small bowl. Further, add more batter inside the bowl (over the stuffed ball). Likewise, do the same with other bowls.
Preheat a big bowl of water for steaming the Idli. Place all the small bowls over the steaming rack and cover it with a lid. Steam the idli bombs for 12 mins.
Alternative: Instead of a steaming rack you can use a plate.
After 15 mins check the Idli. To do this, place the knife inside the idli and pull it out. If the idli does not stick to the knife then it is cooked. Turn off the stove, take out all the small bowls and let them cool down.
Then, scrape the corners of the bowl with the knife and pull the idli out.

Step 4: Prepare the tadka
We will prepare the Tadka to make our Idli tastier. Heat the pan and add 2 tsp of oil. When the oil is hot, add ½ tsp of black mustard, 10-12 curry leaves, ¼ tsp of turmeric powder, ¼ tsp of salt, ¼ tsp of red chilli powder, and mix them well.
Put the idli bombs in the pan and turn off the flame. Later, turn the idli around to coat them with the Tadka. This way they will become crispy.
When they are well coated with Tadka, take them out on a plate. Our Idli Bombs are ready to be served.
Lastly, make Idli bombs for breakfast or meals. You can also prepare them for your kid's tiffin, they surely will love them. Make healthy steamed Suji Nastha with spicy stuffing at home to spice up your breakfast or meal.
सूजी का स्पेशल नाश्ता - इडली बॉम्ब । Steamed Suji Nastha with spicy stuffing | Suji Nashta Breakfast

Tags
Categories
Idli Bomb Recipe | Steamed Suji Nastha with spicy stuffing
Nisha Madhulika
Rating:

5.00

out of

5