Bread Pakora Recipe Bread Pakoda Recipe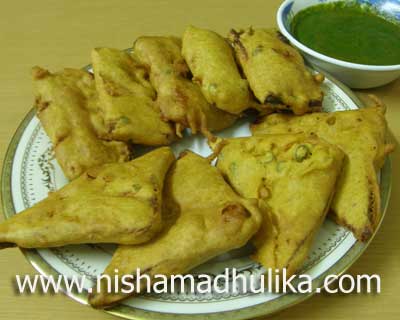 Bread pakoras are made in two ways, either filled with potatoes or without potato fillings. If they are filled with potatoes, they become very big in size, that's why we are preparing them without the potato filling. Let's prepare the Bread Pakora.
इस पोस्ट को हिन्दी में पढ़ें
ब्रेड पकोड़ा
Ingredients for Bread Pakora
Gram Flour – 200 gm
Bread Slices – 5
Turmeric Powder – less than ¼ small spoon
Salt - ¾ small spoon (or as per taste)
Red chili powder - ¼ small spoon
Coriander seed powder – 1 small spoon
Carom seed – ¼ small spoon
Green chili – 2 (cut into small pieces)
Oil – to fry
How to make Bread Pakora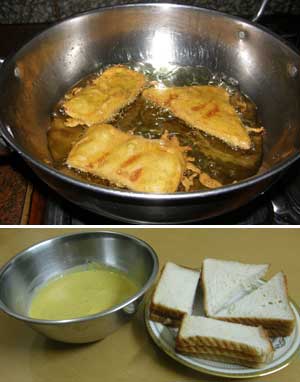 Filter the Gram Flour and take it out in a bowl. Add water and make a paste which is neither too thick nor too thin (No lumps either).
Mix: turmeric powder, salt, red chili powder, coriander seed powder, carom seed and green chili, in the paste and stir well.
Cut the bread into your favorite size (square or triangle)
Put oil in the frying pan and heat it.
Dip the bread in gram flour paste and put it in the hot oil. At one time fry 2 to 3 bread pieces, while turning them. Fry them till the Bread Pakoras turn brown. Spread a napkin paper on the plate. Take out the Bread Pakora from the frying pan and put it in the plate. Like this, prepare all the bread pakoras.
Your delicious Bread Pakora are ready now. Serve and eat them along with coriander chutney.
Bread Pakoda Bread Pakora Recipe Video in Hindi
</br?

Tags
Categories
Bread Pakora Recipe Bread Pakoda Recipe
Nisha Madhulika
Rating:

5.00

out of

5