Veg Rice Roti Recipe । Mixed Vegetable Akki Roti | Veg Mixed Masala Rice flour Roti
Veg Akki Roti is a dish of Indian bread mixed with healthy veggies which have scrumptious taste.
Ingredients for Veg Akki Roti
Rice flour - 1 cup (160 grams)
Cabbage (grated) - 1/2 cup
Cauliflower (grated) - 1/2 cup
Capsicum (finely chopped) - 1/2 cup
Carrot (grated) - 1/2 cup
Ghee - 1 to 2 tbsp
Green chilli (finely chopped) - 2
Ginger baton (grated) - 1/2 inch
Green coriander (finely chopped) - 2 to 3 tbsp
Salt - 1tsp
How to make Veg Akki Roti
Take a 1/2 cup of rice flour in a bowl and add a 1/2 cup of grated cauliflower to it. Add a 1/2 cup of grated carrot, cabbage, a 1/2 cup of finely chopped capsicum, 2 finely chopped green chillies, a 1/2 inch of the grated ginger baton to it.
Add a teaspoon of salt,2 to 3 tablespoons of finely chopped green coriander to it. Mix all the ingredients well and knead its stiff dough using a 1/2 cup of water in intervals.
After kneading the dough, cover and keep it aside to set for 10 to 15 minutes. Mash the dough softly after 15 minutes. Preheat a griddle and divide the dough into lumps. Take a dough lump, roll it, dust with dry rice flour and expand it.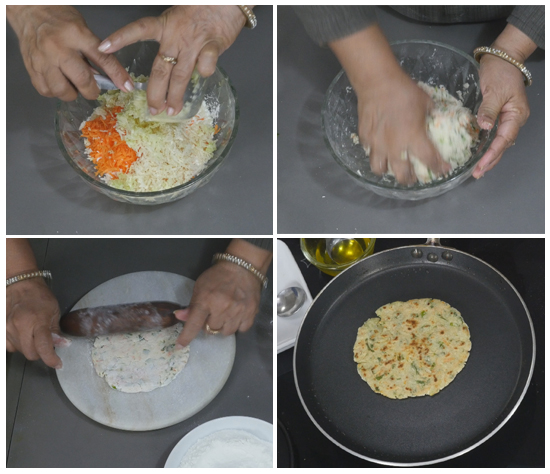 Flatten it softly and thickly into a round-shaped Roti. Grease the griddle with clarified butter and place a Roti over it for cooking. Cook Roti until golden brown spots appear on it on medium to high flame.
Keep flipping it politely in intervals and after cooking it desirably. Remove it from the griddle and cook the rest of Rotis likewise. The Veg Akki Roti will be ready to be served. Serve it along with desired dips, pickle, curd or curry.
Suggestion
You can make it with or without using clarified butter.
You can use the ginger paste instead of grated ginger.
मिक्स वेज चावल की रोटी । Mixed Vegetable Akki Roti | Veg Mixed Masala Rice flour Roti

Tags
Categories
Veg Rice Roti Recipe । Mixed Vegetable Akki Roti | Veg Mixed Masala Rice flour Roti
Nisha Madhulika
Rating:

5.00

out of

5