Soft Brown Bread । Steamed Brown Bread Recipe | Simple Wheat Brown loaf
Steamed bread is an easier recipe of bread which can be made easily at home. This recipe will help you to make it fresh and consume it fresh.
Ingredients for steamed bread
Wheat flour - 1 cup (150 grams)

Refined flour - 1 cup (150 grams)

Oil - 2 tbsp

Active dry yeast - 1 tsp

Sugar - 1 tsp

Salt - ½ tsp
How to make steamed bread
Take a cup of wheat flour and mix a cup of refined flour with it. Add a teaspoon of active dry yeast, a teaspoon of sugar, a ½ teaspoon of salt to it. Mix all the ingredients well.
Use less than a cup of lukewarm water and knead its soft dough. While kneading the dough, add 2 teaspoon of oil to it. After kneading the dough, mash it for 5 to 6 minutes while applying some oil to your palms.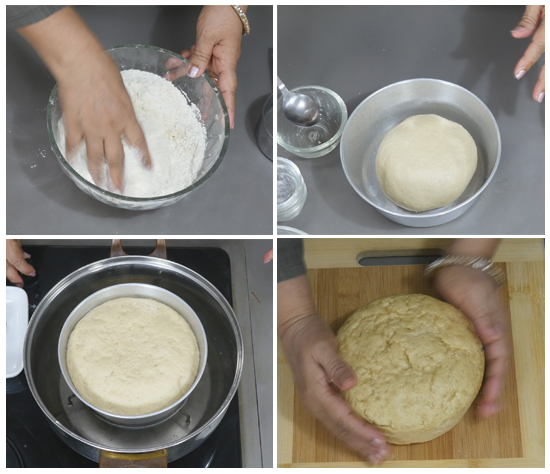 Take a container, grease it with some oil and place the kneaded dough inside it. Apply some oil over it and place it at a warm place for 1.5 hours. After 1.5 hours, boil 2 to 2.5 cups of water in a vessel.
After boiling it, place a stand in the vessel and place the container over it. Steam cook bread for 40 minutes on medium flame. After 40 minutes, remove the cooked bread container form the vessel.
Keep it aside to cool down for a while. After cooling it, remove the bread from the corners of the container using a knife. Cut it into your desired pieces and serve it fresh.
भाप में बनी एकदम सॉफ्ट ब्राउन ब्रेड । Steamed Brown Bread Recipe | Simple Wheat Brown loaf

Tags
Categories
Soft Brown Bread । Steamed Brown Bread Recipe | Simple Wheat Brown loaf
Nisha Madhulika
Rating:

5.00

out of

5