Cluster Beans curry | Dahi wali gawar phali Recipe
Curd cluster beans is a recipe for curry which is usually consumed as a dry curry but in this recipe it is made with a twist of sourness of curd.
Ingredients for Dahi wali Gawar Phali
Gawar phali (Cluster beans) - 150 gms

Whisked Curd - ½ cup

Oil - 1 tbsp

Green Coriander - 1 to 2 tbsp (finely chopped)

Chickpea flour - 1 Tsp

Cumin seeds - ½ tsp

Asafoetida - ½ pinch

Coriander powder - 1 Tsp

Turmeric powder - ¼ tsp

Red chilli powder - ½ tsp

Green chillies - 2 (finely chopped)

Garam masala - less than ¼ tsp

Salt - ¾ tsp
How to make Dahi wali Gawar Phali
Wash, dry and chop 150 gms of cluster beans. Separate these individually from the bunch, cut their stalks from both the ends and remove the stalk from them. Combine the clusters and make a bunch.
Cut them into the longer pieces of 1 to 1.5 inches. Add a 1/2 cup of water and close the lid of a pressure cooker. Cook until the first whistle arrive. Switch off the flame after the first whistle has blown and wait until its pressure releases.
After boiling cluster beans, drain them out using a strainer so that extra water moves out of it. Preheat 1 tbsp of oil, add 1/2 cup of whisked curd, 1 tsp of chickpea flour in it and mix them properly.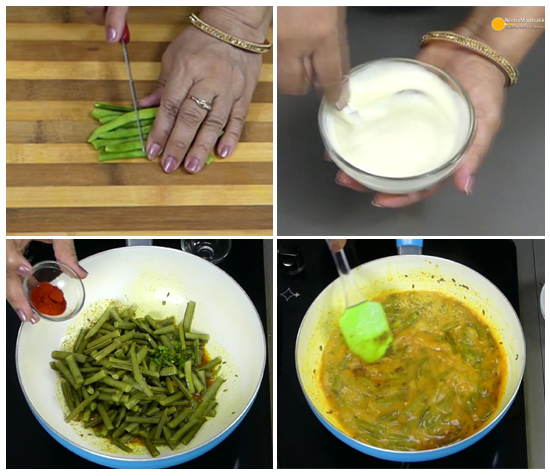 Add a 1/2 teaspoon of Cumin seeds in the heated oil and turn the flame to low. Add a 1/4 teaspoon of turmeric powder, 1 teaspoon of Coriander Powder, 1/2 pinch of Asafoetida and saute them.
Add boiled cluster beans in it, 2 finely chopped deseed green chilli and roast the spices while stirring and mixing them. Add 1 cup of water and wait until it boils. Add curd to it in the intervals and stir until it boils.
Add 3/4 tsp of salt in it, less than 1/4 tsp of Garam masala, some finely chopped green coriander and cook while covering it for 3-4 minutes. The curry has cooked after 4 minutes, pour it in a bowl and Dahi wali gawar phali curry is ready to be served.
Garnish with some chopped coriander. You can serve this curry with Paratha, Tortilla, Rice or anything you want. This quantity of curry is enough for 4-5 members of a family.
Cluster Beans curry | ग्वार फली की रसेदार सब्जी । Dahi wali gawar phali Recipe

Tags
Categories
Cluster Beans curry | Dahi wali gawar phali Recipe
Nisha Madhulika
Rating:

5.00

out of

5