Pizza base on Tawa/Griddle | Homemade pizza base
The pizza base is a base which is an essential ingredient of pizza. Usually, most of the people buy it from the market but, they are unaware that preparing it at home is such an easier process.
Ingredients to make the pizza base on a griddle
Refined flour - 2 cups (250 grams)

Semolina - 2 tbsp (25 grams)

Oil - 1 tbsp

Instant dry active yeast - 1 tsp

Sugar - 1 tsp

Salt - ½ tsp
How to make the pizza base on a griddle
Take 2 cups of refined flour in a bowl, add a teaspoon of instant dry active yeast to it. Add a ½ teaspoon of salt, a teaspoon of sugar, 2 teaspoons of semolina to it and mix all the ingredients well.
Add more than a ¾ cup of lukewarm water to it and knead its soft dough. After kneading the soft dough, apply some oil on your palms and mash it for 6 to 7 minutes. Apply some oil over it, cover it and place it in a warm place for 1 to 2 hours. The dough will ferment after an hour.
Coat the dough with some dry flour and punch it. Cut it into two equal halves and again divide the divided halves into equal halves. Coat them with dry flour and keep them aside to set. Dust the dry flour from a dough lump and flatten it thickly into a round-shaped lump of diameter 6 to 7 inches.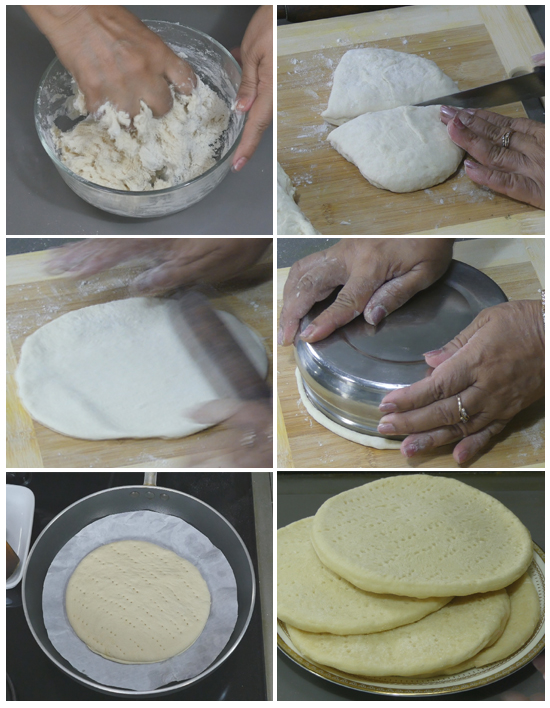 After flattening it, prick it using a fork and cut it using a lid or a container. Preheat a griddle on low flame and spread a round-shaped butter paper over it. Lift a pizza base and place it over the paper. Cover and cook it for 2 minutes on low flame.
After 2 minutes, it has expanded well. Flip it and cook from another side for 2 minutes. The pizza base will be cooked after 2 minutes and ready to be used. Cook all the pizza base likewise. Wrap it in a polythene sheet or butter paper and store them in the refrigerator. You can consume it for 3 days.
Suggestions
You can use regular white paper instead of butter paper.
Pizza Base recipe | तवे पर पिज़्ज़ा बेस कैसे बनायें । Pizza Base recipe without oven

Tags
Categories
Pizza base on Tawa/Griddle | Homemade pizza base
Nisha Madhulika
Rating:

5.00

out of

5