Kadu Puri । Red Pumpkin Masala Poori
Spicy pumpkin Poori is a Poori which is filled with spices and a veggie. It is not stuffed though, it is mixed. Its texture is soft and smooth.
Ingredients for spicy pumpkin Poori
Wheat flour - 2 cups (300 grams)

Pumpkin - 300 grams

Semolina - ¼ cup

Green coriander (finely chopped) - 1 to 2 tbsp

Oil - 2 tsp

Green chilli (finely chopped) - 2

Carom seeds - ½ tsp

Coriander powder - ½ tsp

Turmeric powder - ½ tsp

Red chilli powder - ½ tsp

Salt - less than 1 tsp

Oil - for frying
How to make spicy pumpkin Poori
Take 350 grams of pumpkin, deseed it and peel it. After peeling it, grate it using a finer sized hole grater. Take 2 cups of wheat flour in a bowl, add a teaspoon of salt, a teaspoon of red chilli powder, a ½ teaspoon of turmeric powder, a ½ teaspoon of coriander powder, a ½ teaspoon of asafoetida, deseeded and finely chopped green chilli to it.
Add 2 tablespoons of finely chopped green coriander, a ¼ cup of semolina and 2 teaspoons of oil to it. Take a ¼ cup of water, add it in the intervals and knead the stiff dough. After kneading the dough, cover and keep it aside to set for 20 to 25 minutes.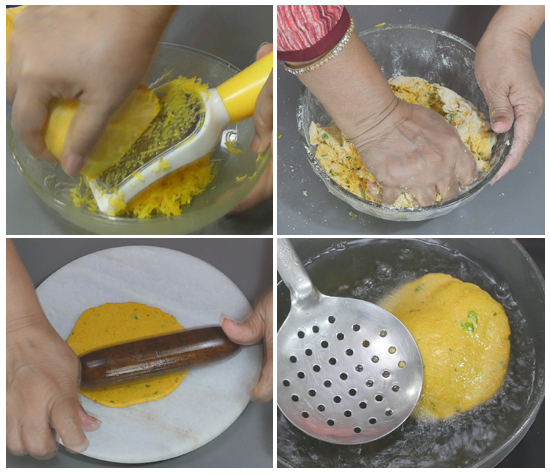 The dough has set after 20 minutes. Apply some oil on your palms and mash the dough. Preheat oil in a wok and divide the dough into smaller sized dough lumps. Apply some oil on a rolling board and on the rolling-pin too.
Expand a Poori into the diameter of 3 to 4 inches and the extremely heated oil is required to fry the Poori. Turn the flame to medium and add a Poori to fry. As the Poori starts floating, press to expand it and flip it. Fry Poori until it becomes brown from both sides.
Drain out the fried poori and fry all the Poori likewise. The spicy pumpkin Poori is ready to be served. 18 to 20 Pooris can be made from the kneaded quantity of dough. Serve it along with curd, dip, pickle, Raita or any desired curry.
Kadu Puri । कद्दू की मसाला पूरी की खास रेसीपी । Red Pumpkin Masala Poori

Tags
Categories
Kadu Puri । Red Pumpkin Masala Poori
Nisha Madhulika
Rating:

5.00

out of

5