Sev Tamatar Curry | Sev Tomato Curry
Sev Tamatar is a curry which can be made easily and instantly. It has a crunch of tomatoes and softness of Sev. Serving it along with varieties helps to make it more delicious.
Ingredients for Sev Tamatar Curry
Chickpea flour - 1 cup (100 grams)

Tomatoes (finely chopped) - 4 (250 grams)

Oil - 2 to 3 tbsp

Green coriander (finely chopped) - 2 to 3 tbsp

Cumin seeds - ½ tsp

Mustard seeds - ½ tsp

Asafoetida - ½ pinch

Coriander powder - 1 tsp

Ginger (grated) - 1 tsp

Green chilli (finely chopped) - 2

Turmeric powder - ½ tsp

Garam masala - ¼ tsp

Salt - 1 tsp

Oil - for frying
How to make Sev Tamatar Curry
For the Sev
Take a cup of chickpea flour in a bowl, add a ¼ teaspoon of salt, a teaspoon of oil to it and mix well. Add a ¼ cup of water in intervals to knead the soft dough.
After kneading the dough, preheat oil in a wok and the rightly heated oil is required to fry the Sev. Place some dough over the ladle, press it with your palm and extract Sev in the wok.
After frying the Sev for 1 to 2 minutes, separate them using the ladle. Fry until they become golden brown and drain them out once they have fried. After draining them, keep them aside to cool down.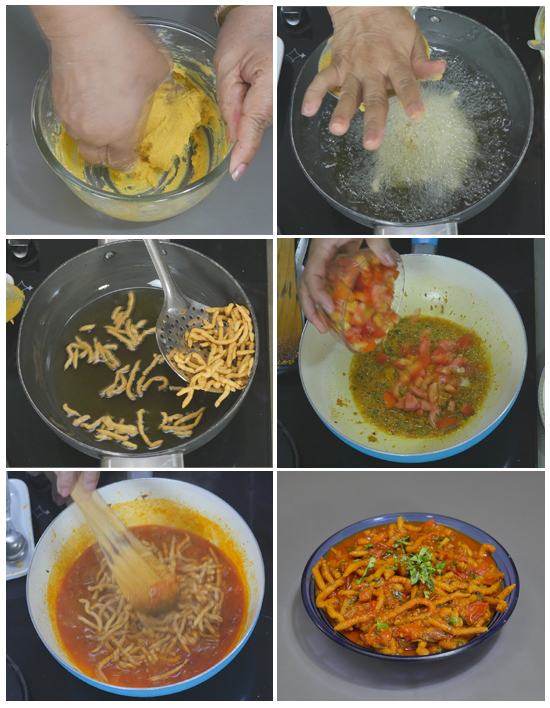 For the curry
Preheat a wok, add a ½ teaspoon black mustard seeds, a ½ teaspoon cumin seeds to it and saute well. Add a ½ pinch of asafoetida, a ½ teaspoon of turmeric powder, 2 finely chopped green chillies, an inch of grated ginger, 4 finely chopped tomatoes, a teaspoon of coriander powder, a teaspoon of red chilli powder to it.
Add a ¾ tsp of salt to it and cook while covering it for 3 minutes on medium flame. After a while, add a cup of water to it and let it simmer for a while. Add a cup of Sev, a ¼ tsp of Garam Masala, some finely chopped green coriander to it and stir well.
Cover and cook it on low-medium flame for 5 minutes. The curry was cooked after 5 minutes. The Sev tomato curry is ready to be served, garnish it with finely chopped green coriander.
Serve it along with Paratha, Chapati, Rice or anything you desire. The cooked quantity of curry will be enough for 3 to 4 members of a family.
Suggestions
You can use pre-made Sev instead of making it instantly.
You can use the Sev maker instead of ladle for making the Sev.
You can increase or decrease the quantity of red chilli powder according to your taste.
Rather than finely chopping the tomatoes, you can grind and use them.
Sev Tamatar recipe | सेव टमाटर की सब्जी । Sev Tamatar ki sabji kaise banaye

Tags
Categories
Sev Tamatar Curry | Sev Tomato Curry
Nisha Madhulika
Rating:

5.00

out of

5