Lobia Recipe, Black Eye Beans Curry Lobhia Recipe, Black-eyed Bean Curry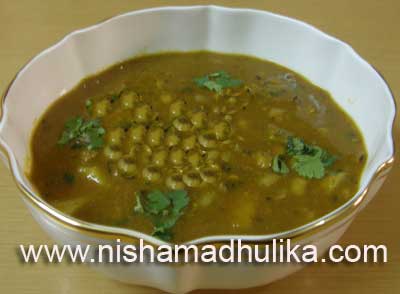 Pulses are the primary source of nutrition. It's even more in black eye beans. Black eye beans are even more beneficial for growing children. Let's make the Black Eye Beans Curry.
इस पोस्ट को हिन्दी में पढ़ें
लोबिया की दाल
Ingredients Lobia Recipe
Black eye beans – 100 gm
Potato – 1 Big size
Edible soda - ¼ small spoon
Tomato – 3 medium size
Green Chili – 2 to 3
Ginger – 1 inch long piece
Oil – 1 tablespoon
Asafetida – 1 to 2 pinch
Cumin seed - ½ small spoon
Turmeric Powder - ¼ small spoon
Coriander seed powder – 1 small spoon
Red chili powder – less than ¼ small spoon
Salt – As per taste (one small spoon)
Garam Masala - ¼ small spoon
Coriander – 1 tablespoon (grated)
How to cook Black Eye Beans Curry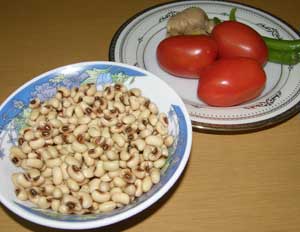 Wash black eye beans and soak them in water, overnight.
Mix, black eye beans, salt, soda, one small glass water, and peeled potatoes, in the cooker and put it on the burner. After one whistle, let the mixture boil for another 5 minutes, on low flame. Turn off the burner. Open the cooker, after it's pressure has released.
Grind finely: tomato, green chili and ginger.
Put oil in a frying pan and heat it. Add, asafetida and cumin seed, to the hot oil. After the cumin seed has fried, mix turmeric powder and coriander seed powder with a stirring spoon. Mix, tomato and chili paste in the mixture and fry it till the mixture appears granulated.
In this mixture, mix the boiled black eye beans and break the potatoes with the stirring spoon. To make the curry suitably thin, mix the water accordingly. Add red chili powder along with garam masala. After it boils, let it heat for another 3 to 4 minutes. Mix half of the coriander.
Your Black Eye Beans Curry is ready now. Take it out in a bowl and garnish with coriander. Now serve and eat it along with chapati, hot bread or rice.
Lobia Dal Recipe, Lobhia Dal, Black Eye Beans Curry Video in Hindi

Tags
Categories
Lobia Recipe, Black Eye Beans Curry Lobhia Recipe, Black-eyed Bean Curry
Nisha Madhulika
Rating:

5.00

out of

5