Rajasthani Mung Dal Ka Stuff Paratha
Moong Dal Paratha is a Paratha which is quicker to cook and easier too.
Ingredients for Moong Dal Paratha
Wheat flour - 2 cups (300 grams)
Moong Da (soaked) - ½ cup (100 grams)
Oil - 3 to 4 tbsp
Coriander leaves - 2 to 3 tbsp
Ginger (grated) - ½ inch
Green chilli (finely chopped) - 2
Asafoetida - ½ pinch
Cumin seeds - ¼ tsp
Red chilli powder - ¼ tsp
Turmeric powder - ¼ tsp
Coriander powder - ¾ tsp
Garam Masala - less than ¼ tsp
Salt - 1 tsp
How to make Moong Dal Paratha
Take 2 cups of wheat flour in a bowl and add a ½ teaspoon of salt to it. After adding the salt, add a teaspoon of oil to it and mix well. Add some water for kneading a dough similar to the dough of regular Paratha.
After kneading the dough, cover and keep it aside to set for 20 to 25 minutes. Take a ½ cup of Moong Dal, wash it and soak it in the water for /0 an hour. After an hour, grind it coarsely ground without the water.
After grinding it, preheat a pan and add 2 to 3 teaspoons of oil in it. Add a ¼ teaspoon of cumin seeds to it on medium flame followed by a ½ pinch of asafoetida to it. Add 2 finely chopped green chilli, an inch of a grated ginger baton, a ¼ teaspoon of turmeric powder, a ¾ teaspoon of coriander powder to it and saute them.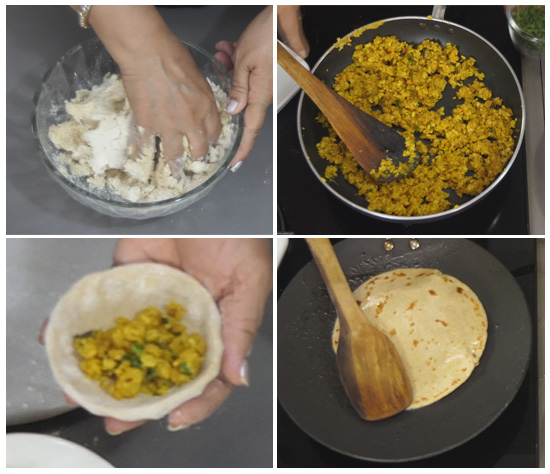 Add coarsely ground Dal, a ½ teaspoon of salt, a ¼ teaspoon of red chilli powder to it. Add less than a ¼ teaspoon of Garam Masala to it and roast while continuously stirring it on medium flame until there is a soothing fragrance from it.
Add some coriander leaves to it and mix well. The stuffing has cooked, keep it aside to cool down for a while. The dough has set after 20 minutes. Apply some oil on your palms and mash it. Preheat a griddle, take a dough lump and roll it between your palms.
Coat it with the dry flour and hollow it using your fingers with the thumb. Fill in 2 to 3 teaspoons of stuffing in it and seal it. Press it from all the sides to spread the stuffing evenly and coat it again with dry flour.
Flatten it softly into the diameter of 6 to 7 inches. After flattening it, spread some Ghee on the griddle and place a Paratha on it for cooking. Cook it on medium flame and let it cook from the bottom for a while.
Flip it and cook it from another side until there are dark spots on it. Spread some oil over it and cook on low to medium flame for a while. After cooking it from both the sides, remove it from the pan and cook all the Parathas likewise.
6 to 7 Parathas can be made from the prepared quantity of dough. You can serve it along with curd, dip, pickle or any desired curry.
Suggestions
You can use a 1/2 teaspoon of ginger paste instead of a ginger baton.
You can use clarified butter instead of oil.
मूंग दाल भरवां मसाला परांठा । Rajasthani Mung Dal Ka Stuff Paratha

Tags
Categories
Rajasthani Mung Dal Ka Stuff Paratha
Nisha Madhulika
Rating:

5.00

out of

5