Bharwan tinda with gravy in Cooker | Stuffed Tinda Curry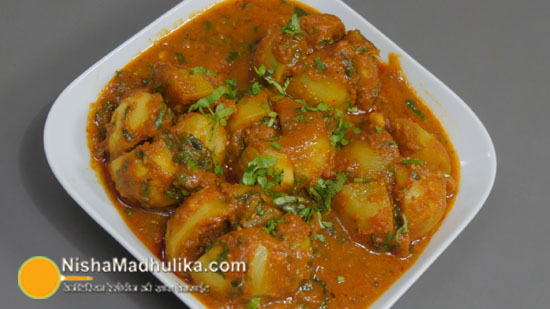 It is a dish which is scrumptious and has a unique flavour.
Ingredients for stuffed Tinda gravy
Round Gourd - 5 (250 gms)

Tomato - 3 (200 gms)

Green chilli - 2

Ginger - 1 to ½ inch baton

Oil - 2 tbsp

Green Coriander - 2 to 3 tbsp (finely chopped)

Cumin Seeds- ¼ Tsp

Turmeric Powder - ½ tsp

Red Chilli Powder - ½ tsp

Coriander Powder - 2 Tsp

Fennel powder - 1.5 Tsp

Garam Masala - ¼ Tsp

Dry Mango Powder - ¼ tsp

Salt - 1 tsp (to taste)
How to make stuffed Tinda gravy
Preheat 2 tablespoons of Oil in a pressure cooker, add 1/4 teaspoon of sesame seeds on low flame. Add 1/4 teaspoon of turmeric powder, 1 teaspoon of coriander powder and roast them. Prepare a paste of 3 tomatoes, 2 green chillies and 1/2 inch piece of the ginger baton.
Add the paste to the roasted spices, more than 1/4 teaspoon of red chilli powder and roast on medium flame until oil separates from it. Take 5 round gourds, peel and wash them. Cut them from the top, leave them joined from the bottom and cut them into four equal parts.
Add a 1/2 teaspoon of salt, 1/4 teaspoon of turmeric powder, 1 teaspoon of coriander powder, more than 1/4 teaspoon of red chilli powder, a 1/2 teaspoon of fennel powder, 1/4 teaspoon of mango powder, 1/8 teaspoon of Garam Masala in a mini bowl.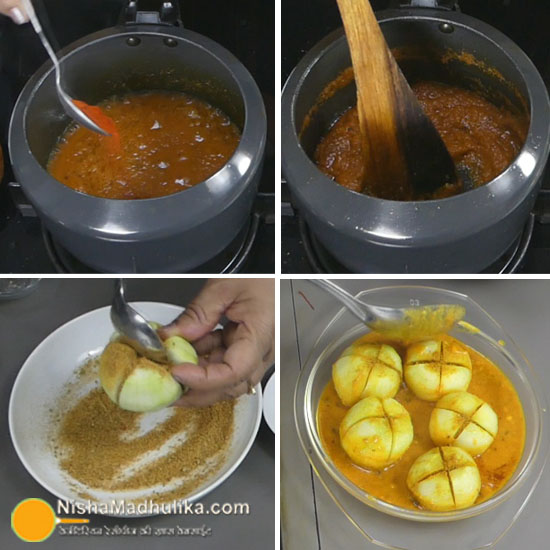 Add a 1/2 tablespoon of chickpea flour and roast it along with the spices on low flame. Open the round gourds, stuff the stuffing in it and press it. Stuff all the round gourds likewise. Add more than a 1/2 cup of water, 1/2 teaspoon of salt, Garam Masala and the stuffed round gourds in cooker.
Place them in a way so that upper side stays on the top. Close its lid and cook until the first whistle arrives and cook on low flame for 2 minutes after a whistle blown. Switch off the flame after 2 minutes. Wait until the pressure of cooker releases and open it once the pressure was released.
Stuffed round gourd gravy is ready to be served, garnish it with chopped coriander and serve it. You can serve it with Chapati, Paratha, Naan, Rice or whatever you desire.
Suggestions
You can increase or decrease the quantity of red chilli powder according to your taste.
You can use the juice of a half lemon instead of mango powder.
You can roast the chickpea flour separately and mix it.
If you want to add onion, add it after roasting cumin seeds and roast until it is light pink.
भरवां टिन्डा मसाला ग्रेवी वाले, कुकर में झटपट बनाईये । Bharwan tinda with gravy in Cooker

Tags
Categories
Bharwan tinda with gravy in Cooker | Stuffed Tinda Curry
Nisha Madhulika
Rating:

5.00

out of

5