Stuffed dum aloo | Shahi Dum aloo Recipe
It is a recipe which is filled with rich gravy and perfectly cooked veggies.
Ingredients for the stuffed Dum Aloo curry
Potatoes - 4 (500 gms)

Tomatoes - 6 (400 gms)

Green chilli - 2

Ginger - 1 inch (baton)

Cottage Cheese - 150 gms

Oil - 4 to 5 tbsp

Cashew - 1/4 cup + 4 (finely chopped) (15 to 20 gms)

Green coriander leaves - 2 to 3 tbsp (finely chopped)

Ginger julienne - 1 tsp

Green chilli - 1 (finely chopped)

Cumin seeds - 1/2 tsp

Turmeric powder - 1/2 tsp

Coriander powder - 1.5 tsp

Red chilli powder - 1 tsp

Dry fenugreek Leaves - 2 tsp

Raisins - 15

Cinnamon stick - 1.25 inches

Cloves - 4

Black pepper - 8

Black cardamom - 1

Salt - 1.5 tsp
How to make stuffed Dum Aloo curry
For the stuffing
Take 150 gms of cottage cheese and crumble it finely. Add a tablespoon of finely chopped ginger, 3-4 finely chopped cashews, 15 smaller sized raisins, a finely chopped green chilli, less than a 1/2 teaspoon of salt, 1 to 2 tablespoons of finely chopped green coriander to it and mix all the ingredients well.
Take 4 larger sized potatoes, chop it into a half and hollow them using a knife. Stuff the potatoes with the prepared stuffing according to their capacity. Take 2 teaspoons of refined flour in a bowl and add some water to it. Add a pinch of salt to it and whip well.
Spread the batter over the stuffed potatoes to seal the stuffing and preheat a non-stick pan. Add 2 to 3 tablespoons of oil in it and place the potatoes in it too. Place them on the pan vertically and cook for a while on low flame.
Cover them and cook for 5 minutes and after 5 minutes, rotate them. Cook them again on low flame for 5 minutes. The potatoes have cooked after 5 minutes.
For the curry
Add 2 tablespoons of oil in a pressure cooker and preheat it. After heating the oil, add a ½ teaspoon of cumin seeds, 1.25 inches of cinnamon stick, 4 cloves, 8 black peppers and black cardamom after peeling to it.
Saute the added spices and add a ½ teaspoon of turmeric powder to it. After adding the turmeric powder, add a teaspoon of coriander powder to it and roast while stirring it. Add a paste of 6 tomatoes, an inch of the ginger baton, 2 green chillies followed by a ¼ cup of cashews.
After adding the paste, add a teaspoon of red chilli powder to it and roast the spices while stirring it continuously. Roast the Masala mixture until oil separates from it. Switch off the flame after the oil has separated.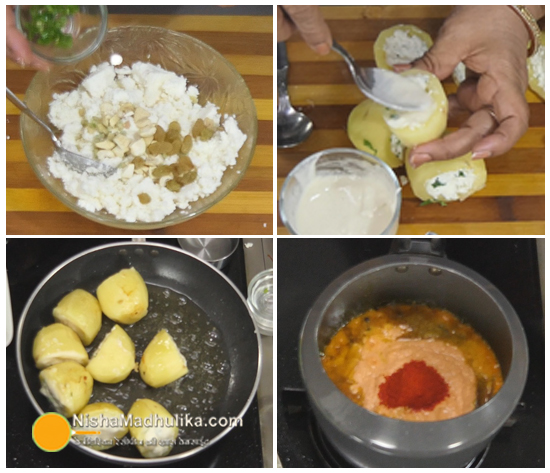 Add 2 teaspoons of dry fenugreek leaves after crushing it, more than a teaspoon of salt, a cup of water to it and stir to mix it. Add the stuffed potatoes in the gravy and close lid of the cooker. Cook the curry until the first whistle blows and turns the flame to low after the first whistle.
Cook the curry on low flame for 5 minutes. After the 5 minutes, switch off the flame and wait until the pressure of cooker releases. After releasing its pressure, open lid of the cooker and add some finely chopped green coriander to it.
Pour the cooked curry in a serving bowl and garnish with some green coriander before serving it. Serve it along with Chapati, rice or anything you desire.
Suggestions
Rather than crumbling the cottage cheese, you can grate it too.
You can use larger sized raisin after chopping it instead of regular raisin.
You can use the remaining potatoes for the stuffing of Paratha after boiling it or you can make its curry.
You can skip whole gram spices as per your taste.
You can add any variety of dry fruit according to your taste in the gravy. You can even make the curry using Mawa.
You can increase or decrease the quantity of red chilli powder according to your taste.
Stuffed dum aloo | भरवां दम आलू कुकर में जल्दी बनाने की विधि | Shahi Dum aloo Recipe

Tags
Categories
Stuffed dum aloo | Shahi Dum aloo Recipe
Nisha Madhulika
Rating:

5.00

out of

5