Idli batter toast, Idli batter sandwich, idli batter stuffed sandwich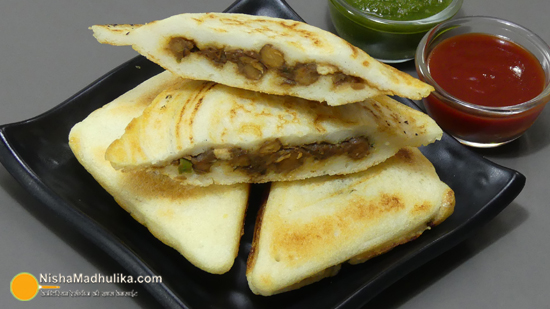 It is a perfect recipe to make breakfast or a snack instantly.
Ingredients for Idli batter toast
Idli batter - 2 cups

Salt - less than ½ tsp

Oil - 1 to 2 tbsp
How to make Idli batter toast
For the batter
Prepare the batter of rice and lentils or you can also make the batter of semolina.
How to make in the regular sandwich maker?
Preheat the regular sandwich maker to make the sandwich, grease its moulds by applying oil on them. Pour 2 cups of Idli batter in a separate bowl and add less than a ½ teaspoon of salt to it.
Spread the batter in the heated moulds evenly. After spreading the batter, add the stuffing of potato over it and cover it using the batter again. After covering it, close lid of the sandwich maker and cook it on the low flame for 3 to 4 minutes.
Spread some oil over it after 3 or 4 minutes. Close the lid and again cook it for 4 minutes from another side. Remove it from the pan after 4 minutes because it has cooked. The first Idli batter toast is ready to be served.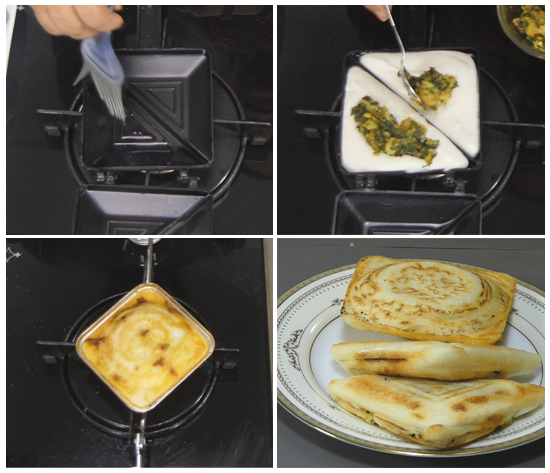 How to make it in another sandwich maker?
Preheat the second sandwich maker and grease its first mould with oil. Preheat its second mould and grease it too. Add the batter in its mould and cook it on the low flame.
After a while, insert the stuffing of cooked curry in it. Cover the stuffing by spreading some batter on it and close the lid of sandwich maker. Cook it on the low-medium flame for 4 to 5 minutes.
Open the lid after 5 minutes and remove cooked toast from the maker. Both the varieties of Idli toast is ready to be served. Serve it along with tomato sauce or green coriander dip.
Suggestions
You can use the batter of semolina instead of rice and lentils.
You can add your desired stuffing in it.
इडली बैटर से बना हुआ सैन्डविच टोस्ट टिफिन के लिये । Sandwich Toast using Idli Batter

Tags
Categories
Idli batter toast, Idli batter sandwich, idli batter stuffed sandwich
Nisha Madhulika
Rating:

5.00

out of

5