Kathal ka Achar - Raw Jackfruit Pickle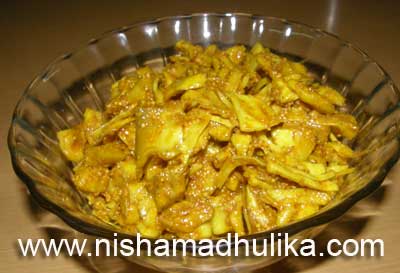 Most people like pickle and chutney along with their meals. Let's make the Jackfruit Pickle today.
Raw (kacha) jackfruit is needed to make this pickle.
इस पोस्ट को हिन्दी में पढ़ें
कटहल का अचार
Ingredients for Kathal ka Achar
Jackfruit – 300 gm
Mustard Oil – 100 gm
Asafetida – 2 pinch
Salt – 1 ½ small spoon
Turmeric Powder – 1 small spoon
Red chili powder - ½ small spoon
Yellow mustard (sarson) – 3 small spoon
How to make Raw Jackfruit Pickle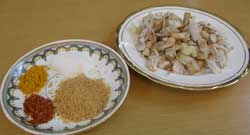 Buy raw, white jackfruit and get it peeled from the shopkeeper himself. Most vegetable sellers in India provide the service free. Wash the jackfruit. Grease your hands with oil while cutting it so that it doesn't stick to your hands. Don't forget to remove the skin from the jack-fruit seeds while you cut the jackfruit.
Steam boil the jackfruit pieces in the cooker (fill the cooker with one glass of water and place the separator. On the separator put the jackfruit pieces. Close the cover of the cooker and boil on medium flame for about 10 minutes). Alternatively you can boil the jackfruit pieces in a bowl inside a microwave for 5 minutes. Ensure that the quantity of water is minimal in the jackfruit pieces.
Put some oil in a frying pan and heat it. Turn off the burner. Stir the ground asafetida in the hot oil. Now mix turmeric powder, salt, red chili powder, yellow mustard and the jackfruit pieces in the oil. The jackfruit pickle is ready to marinate.
You can keep this pickle refrigerated and consume it for up to 2 weeks. If you want to store the pickle for even more days, then put sufficient oil in the container, so that the pickle gets submerged in the oil.
Kathal Achar – Jackfruit Pickle Recipe Video in Hindi

Tags
Categories
Kathal ka Achar - Raw Jackfruit Pickle
Nisha Madhulika
Rating:

5.00

out of

5