Rava Meethi Mathri Recipe | Semolina Sweet Mathri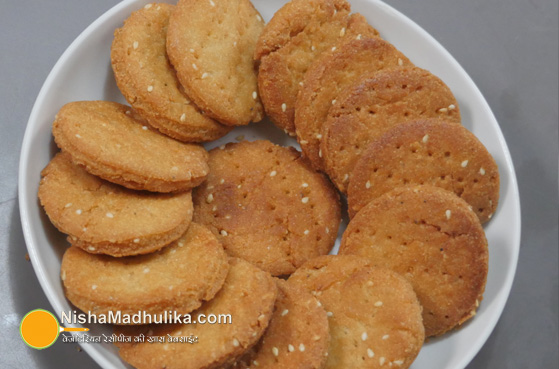 Semolina Matri is a crispy Matri which is a lip-smacking snack for tea breaks.
Ingredients for Rava Meethi Mathri Recipe
Semolina - 1 cup (200 gms)

Wheat Flour - more than ¼ cup (50 gms)

Powdered Sugar - ½ cup (75 gms)

Oil - ⅓ cup

Full Cream Milk - ½ cup

Green Cardamom - 4 (powder)

Sesame Seeds - 1 tbsp

Oil - for frying
How to make Semolina Sweet Mathri
For the dough
Take 1 cup of semolina in a bowl and add ⅓ cup of wheat flour to it. Add 1 tablespoon of sesame seeds to it along with powder of 4 green cardamoms. Add ½ cup of powdered sugar to it and mix them properly.
Add 6 tablespoons of oil to the mixture and mix them together. Add ½ cup of warm milk to the mixture and knead to make a soft dough from it. Cover the dough for 20 minutes to set it.
After 20 minutes, mash the dough for 2-3 minutes. Preheat oil for frying in the wok. Take a flattening board and apply some oil over it to grease it.
Divide the prepared dough into two equal halves and roll a proportion of dough between your palms. Flatten the proportion of dough into the diameter of ¼cm on the flattening board by applying pressure over it.
Take a cookie cutter after flattening the dough lump and press it over the dough to cut the cookie shaped Matris.
Prick the Matris from both sides using a fork so that they won't expand while frying. Prepare all the Matris likewise.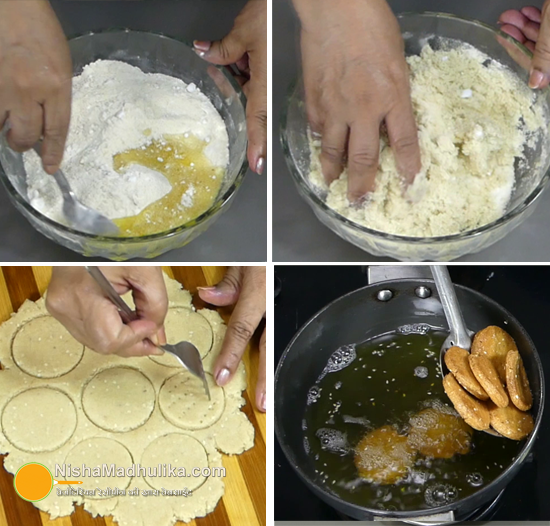 The less heated oil and the low-medium flame is required to fry Matris. Add Matris in the wok according to its capacity to fry. Fry Matris til they appear golden brown from both sides. Flip and fry them till their colour changes.
Drain out the fried Matris because their colour has changed using a ladle. Fry all the Matris likewise and a single round of Matris take 4-5 minutes to fry. You can make 20-25 Matris from the prepared amount of dough.
Suggestions
You can take thicker sized semolina instead of finer sized semolina. If you are using thicker sized semolina then, add increase the quantity of wheat flour.
Take sugar ⅓ the quantity of wheat flour. Do not increase the amount of sugar excessively otherwise Matris will split while frying.
If oil is excessively heated then, Matris will fry from the outside but, they will remain raw from the inside.
Rava Meethi Mathri Recipe | सूजी की क्रम्बल होने वाली कुरकुरी मीठी मठरी । Semolina Sweet Mathri

Tags
Categories
Rava Meethi Mathri Recipe | Semolina Sweet Mathri
Nisha Madhulika
Rating:

5.00

out of

5