Haldi Adrak Mirch Ka Achar । Turmeric Ginger Chilli Pickle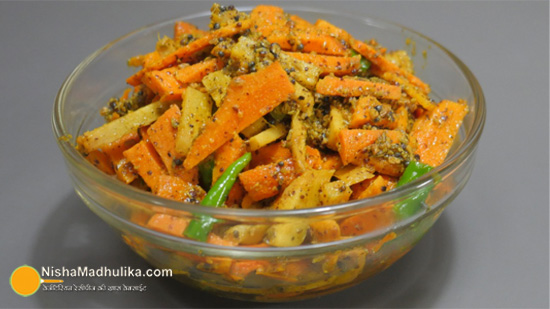 Turmeric Ginger Chilli Pickle is a pickle which is really beneficial during the Winters.
Ingredients of Ginger Turmeric Pickle
Raw Turmeric - 200 gms

Ginger - 100 gms




Lemons - 2




Green Chillies - 2




Mustard Oil - 1/3 cup (75 gms)




Black Mustard Seeds - 1 tsp




Asafoetida - 1 pinch




Black Pepper - 1 Tsp




Fenugreek Seeds - 2 tsp




Fennel Seeds - 4 tsp




Yellow Mustard Seeds - 4 tsp (coarsely ground)




Salt - 2 Tsp
How to make Ginger Turmeric Pickle
Take 200 grams of raw turmeric along with 100 grams of ginger. Wash and dry them before peeling. To peel them, use knife not a peeler and peel them only after wearing the gloves.
After peeling them, chop them into the bite-sized pieces. Take 10 green chillies after washing and drying them. Chop the green chillies into 4 equal sized pieces.
Preheat a pan and add 4 teaspoons of fennel seeds along with 1 teaspoon of black pepper in the heated oil. Dry roast them while continuously stirring them on the medium flame for 1 minute.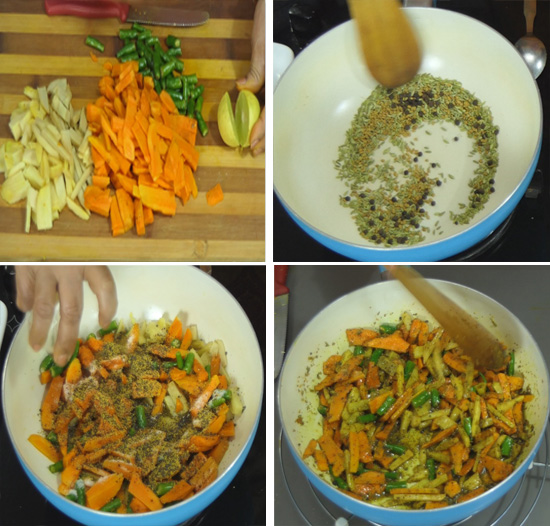 Grind the roasted spices in the grinder until they are coarsely ground. Preheat a wok and add a ¾th cup of mustard oil in it. In this heated oil, add 1 teaspoon of black mustard seeds and roast them. Add the chopped ginger, turmeric, green chillies and a pinch of asafoetida in it. Saute the ingredients.
Add 2 teaspoons of salt, 4 teaspoons of coarsely ground yellow mustard seeds and the coarsely grounded spices.
Mix them properly while continuously stirring them. To this, add the juice of 2 lemons and mix well. Pour this into a separate bowl. The Ginger Tumeric Pickle is now ready to be served.

Store the pickle after cooling it in a glass container or food grade container. The Pickle would be ready after 3-4 days.
Suggestions
You can add 2-3 tbsp of vinegar instead of lemon juice.
If you want to store pickle for the longer period then, add vinegar in it or dip it in oil properly.
Haldi Adrak Mirch Ka Achar । हल्दी, अदरक मिर्च का अचार । Turmeric Ginger Chilli Pickle

Tags
Categories
Haldi Adrak Mirch Ka Achar । Turmeric Ginger Chilli Pickle
Nisha Madhulika
Rating:

5.00

out of

5