Methi paratha recipe | Fenugreek paratha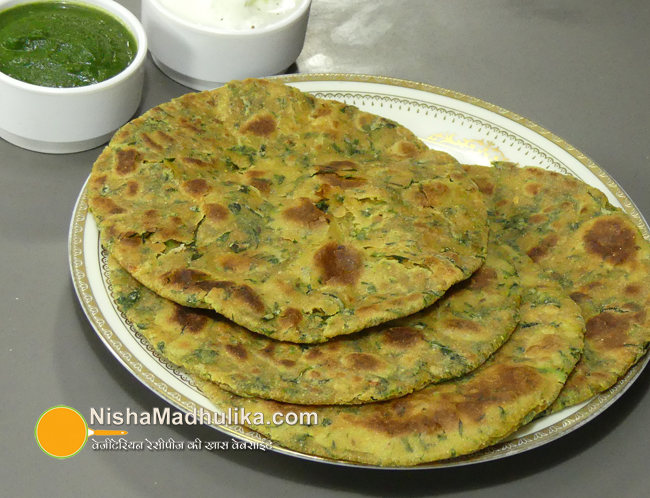 Fenugreek Paratha made with cooked Veggies taste spectacular and bloat amazingly.
Ingredients for Methi Paratha
Wheat Flour - 2 cups (300 gms)
Fenugreek Leaves - 2 cups (finely chopped)
Tomatoes - 1 (finely chopped)
Ghee - 3 to 4 tbsp (50 gms)
Oil - 2 Tsp
Cumin Seeds - ½ tsp
Asafoetida - ½ pinch
Turmeric Powder - ⅛ tsp
Red Chilli Powder - ¼ tsp
Coriander Powder - ½ tsp
Ginger Paste - ½ inch (grated)
Green Chillies - 2 (finely chopped)
Salt - ¾ tsp
How to make Methi Paratha
For methi Paratha, preheat a pan, add 2 tsp of Oil and heat it. Add ¼ tsp of Cumin Seeds, a ½ pinch of Asafoetida in the heated Oil and saute them. Add 1/2 tsp of Ginger paste, 2 finely chopped Green chillies in the heated Oil and saute them. Add 1 finely chopped and deseed Tomato and roast them until tomatoes fry properly on the medium flame.
Add 1/2 tsp of Coriander Powder, 1/4 tsp of Red Chilli Powder, 1/8 tsp of Turmeric powder and saute them. Tomatoes have mashed and cooked properly. Add 2 cups of finely chopped Fenugreek leaves, 3/4 tsp of Salt, stir and cook fenugreek leaves for 2 minutes. Fenugreek has cooked so switch off the flame.
Take 2 cups of Wheat and add water to knead the dough as soft as regular paratha's dough. Cover and keep it aside for 15 to 20 minutes to set. After 20 minutes, the dough has set.
Apply some clarified butter on your palms to grease them, mash the dough to make it smooth. The dough is ready, let us make the Paratha. Take a dough lump, make a round loi and coat it with dry flour. Flatten it into the diameter of 3 to 4 inches, spread some clarified butter and spread it evenly.
Lift it and close it from all the corners, Coat it with the dry flour, Flatten it into the diameter of 5 to 6 inches with less pressure. Flatten it from the corners and evenly. The pan has heated so add some clarified butter on it, spread it evenly.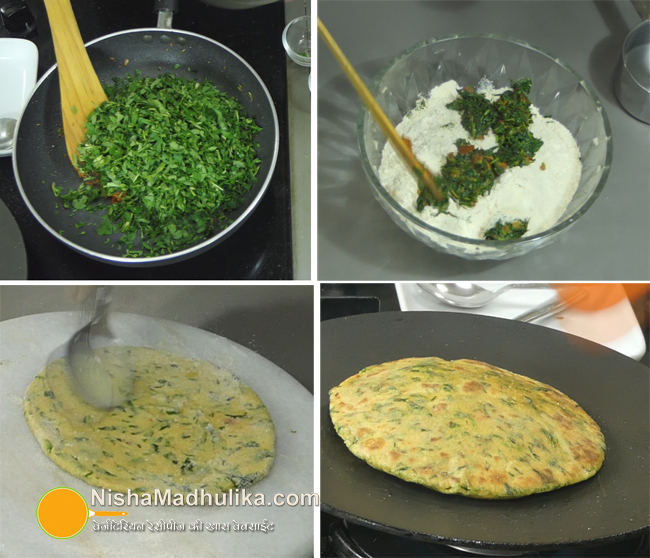 Add the paratha to fry, let it fry from the bottom. Flip it as it has cooked from the bottom. Leave it to cook form another side until spots appear. Spread some clarified butter over it. Flip it, spread some clarified butter on this side too.
Press and cook paratha from both the sides until brown spots appear. There are golden spots on both the sides, we will remove it from the pan. Cook all the Parathas likewise and serve them after crushing slightly. You can serve them with Curd, Dip, Pickle or any curry you desire. If you are serving Parathas directly in the plate then, crush it before serving like them.
Suggestions
If you like Onion and Garlic then, add 3 to 4 cloves of Garlic and 1 finely chopped onion and add after roasting the Cumin seeds.
You can increase or decrease the quantity of Red chilli Powder according to your choice.
Methi paratha recipe | कुरकुरा स्पाइसी मेथी का परांठा बनाने की आसान विधि । Fenugreek paratha recipe

Tags
Categories
Methi paratha recipe | Fenugreek paratha
Nisha Madhulika
Rating:

5.00

out of

5