Cabbage stuffed Paratha
Parathas taste so amazing during the winters through this recipe you'll be able to make it very easily.
Ingredients of Stuffed Cabbage paratha
Cabbage - 300 gms

Wheat flour - 2 cups (300 gms)

Oil - 3 to 4 tbsp

Green Coriander - 2 to 3 tbsp (finely chopped)

Green chillies - 2 (finely chopped)

Ginger paste - ½ tsp

Cumin seeds - ¼ tsp

Coriander powder - ½ tsp

Red chilli powder - ¼ tsp

Salt - less than 1 Tsp
How to make stuffed Cabbage stuffed
For the dough
Take 2 cups of wheat flour in a bowl and add ½ teaspoon of salt in it. Add 2 teaspoons of Oil in it and mix them. Add 1 cup of water in intervals and knead the soft dough for parathas. After, preparing the cover and set it for 15-20 minutes.
For the stuffing
Take 300 gms of cabbage, remove its upper 3-4 leaves and separate the rest of them individually. Take some lukewarm water in a vessel and add some salt in it. Dip cabbage leaves in the water for 10 minutes. After 10 minutes, drain them out of the water, wash them with the fresh water in a strainer so that extra water moves out of it. Keep them in a basket until they dry properly.
Make a bunch of some dried leaves and chop them finely. Preheat 2 teaspoons of Oil in a pan, add 2 teaspoons of cumin seeds in it and roast on the low flame.
Saute ½ teaspoon of ginger paste along with 2 finely chopped Green chillies, ½ teaspoon Coriander powder and ½ teaspoon of red chilli powder in the pan.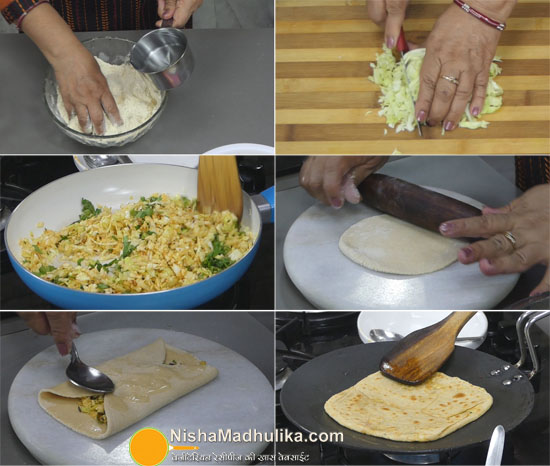 Add chopped cabbage in the roasted spices, ½ tsp of salt, stir and cook them for 2 minutes.
Add 2 to 3 tbsp of finely chopped coriander and cook it while stirring for 1 to 2 minutes. The stuffing is ready and has cooked properly.
For the paratha
After, 20 minutes mash the dough slightly and preheat the pan or parathas. Take a dough lump and roll it to make a round ball. Roll it in the dry flour and flatten it to the diameter of 6 to 7 inches. Pour some Oil on it and spread it evenly. Place the stuffing over it and spread it thinly.
Fold it into a square-shaped dough from all the sides and spread some Oil over it. Roll it in the dry flour and toss to remove extra flour from it. Press it using your fingers from all the corners. Flatten it using a rolling pin into the shape of a square, spread some oil on the pan and place paratha over it to cook.
Let it roast from the bottom and flip it later on. Cook it until light colour spots appear on it, add some Oil in it and spread it. Flip and fry by pressing them until they are golden. Remove it and place on mini bowl over a plate. Prepare all the parathas in the same way and serve.
Suggestions
You can serve it with curd, dip, pickle or with anything you desire.
Do not add an excessive amount of the stuffing in parantha otherwise, it will split.
You can use Clarified butter instead of Oil.
Cabbage stuffed Paratha | पत्ता गोभी को इस तरह साफ करके परांठा बनाईये

Categories
Cabbage stuffed Paratha
Nisha Madhulika
Rating:

5.00

out of

5