Raw Banana Masala Poori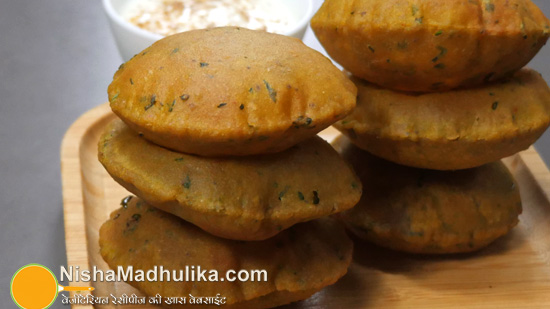 Raw banana poori is a dish which is very unique and can be consumed anytime.
Ingredients of raw banana poori
Wheat flour- 1.5 cup (225 gms)
Raw banana- 6 (500 gms)
Green Coriander- 2 to 3 tbsp (finely chopped)
Turmeric powder- ½ tsp
Red chilli powder- ¼ tsp
Carom seeds- ½ tsp
Salt- 1 tsp
Oil- for frying
How to make the raw banana poori
For boiling the bananas
Boil the raw bananas in the pressure cooker after adding water in it. Boil it until the first whistle arrives. Remove the raw bananas from the cooker after the pressure releases and peel them.
Grate the boiled raw bananas and remove the inner black portion of the bananas.
For the dough
Take the wheat flour in a bowl, add the grated bananas, 3 to 3 tbsp of finely chopped green coriander, chopped deseed green chillies, ¼ tsp of red chilli powder, ½ tsp of turmeric powder, ½ tsp of crushed carom seeds, ½ tsp of salt and knead the tight dough by adding the water in intervals (½ cup of water is utilised to knead the dough).
Cover and keep the dough aside for 20-25 minutes to set.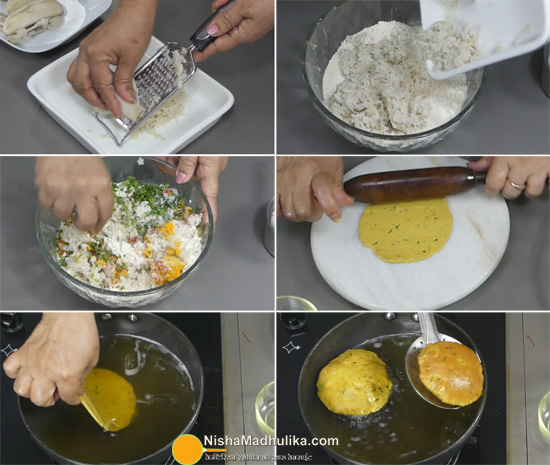 To fry the pooris
Preheat oil in the wok. The dough is set after the 2 minutes, knead the dough again after applying oil on your palms and divide the dough in small portions. Prepare the round balls of the dough and flatten it by pressing. Apply some oil on the laughter and flatten the dough on it using the rolling-pin and cover rest of the balls.
Flatten the dough from corners to make it thin from the bottom and thick from corners. Add some dough in the oil to check its temperature if, it floats that means the oil is heated.
Add the flatten dough in oil, fry the poori on high flame and press it while frying to expand it. Flip and fry it in the extremely heated oil until it is golden brown.
Fry all the pooris in the same way and place fried pooris in the plate to serve. You can serve it with curd, raita, dip, pickle or any desired curry.
Suggestion
The dough required for the pooris shouldn't be tighter or thinner.
Prepare the pooris of your desired size.
Fry the pooris on the high flame and oil should be extremely heated
Prepare the smooth poori and make sure that they are not tearing from the corners.
Flatten the dough evenly, it shouldn't be thicker or thinner.
Raw Banana Masala Poori | कच्चे केले की खस्ता मसाला पूरी, जो चाय के साथ भी अच्छी लगे

Tags
Categories
Raw Banana Masala Poori 
Nisha Madhulika
Rating:

5.00

out of

5