Dahi Mix Dal Tadka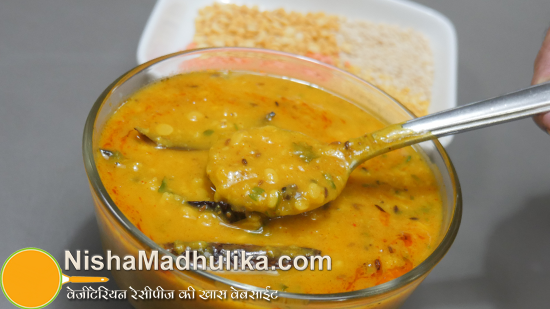 This dal is prepared of the different types of dal and curd enhances its taste to give your mouth an amazing flavor
Ingredients for the dahi mix dal tadka
Masoor dal- 2 tbsp
Chana dal- 2 tbsp
Moong Dal- 2 tbsp
Urad dal- 2 tbsp
Ghee- 2 to 3 tbsp
Whisked curd- 4 tbsp
Green Coriander- 2 to 3 tbsp (finely chopped)
Whole Solid Spices- 2 Bay leaves, 1 cinnamon stick, 1 Black Cardamom, 2 Cloves, 7 Black peppers, 2 dry red chillies
Cumin Seeds- ½ tsp
Asafoetida- ½ pinch
Ginger- ½ tsp (Grated)
Green chillies- 2
Cumin Powder- ½ tsp
Turmeric Powder- ¼ tsp\
Coriander Powder- 1 tsp
Salt- less than 1 tsp or as per the taste
How to make the dahi mix dal
Wash and soak the 2 tbsp of the masoor dal, chana dal, moong dal and urad dal for 1 hour. Remove the excess water from the soaked dal. Preheat the pressure cooker to prepare the mixed dal. Add the 2-3 tsp of ghee in the heated pressure cooker. Add and roast the ¼ tsp of the cumin seeds, a ½ pinch of the asafoetida. Add the solid spices which are 2 bay leaves, 1 cinnamon stick, 2 cloves and 6 to 7 black peppers. Peel and add the seeds of 1 black cardamom. Slightly roast the solid spices and add the ⅓ tsp of the grated ginger, 2 finely chopped green chillies. Slightly roast them and add ¼ tsp of the turmeric powder. After roasting the spices add the soaked dal in it and roast it by continuously stirring it for the 2 minutes. Keep the flame on medium. Add the 2 cups of water in the roasted dal, 1 tsp of salt and mix them.

Close the lid of the pressure cooker and cook it until the single whistle arrives. Turn the flame to low after the single whistle arrives and cook the dal for 2 minutes.

Switch off the flame after the 2 minutes and wait until the pressure of cooker releases.

Again switch on the gas and boil the dal.

To prepare the curd
Add the ½ tsp of the cumin powder, 1 tsp of the coriander powder, ¼ tsp of the red chilli powder and mix them well with the curd. Add and stir the curd mixture in small portions on the high flame. Add the finely chopped coriander in the boiled dal and mix them properly.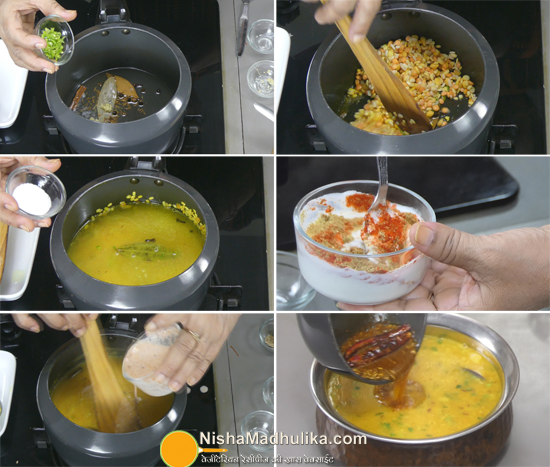 For the tempering
Preheat the tempering pan. Add the 1 to 1.5 tbsp of ghee in the heated tempering pan and add ¼ tsp cumin seeds in the melted ghee. Turn the flame to medium to avoid the tempering from burning.

Add the 2 dry red chillies and 1 pinch of the red chilli powder. Pour the tempering over the dal and mix it sightly. The amazing dahi mixed dal is ready. You can serve the dal with the roti and the rice.

Suggestions
You can take the ginger paste instead of the grated ginger.

You can serve the dal without the tempering also.

Cook the dal for more 3-4 minutes if it is not soaked after the single whistle arrives on the low flame.


Mix Dal Tadka Dahi wali | मिक्स दाल तड़का दही वाली - स्पेशल पारंपरिक रेसीपी

Tags
Categories
Dahi Mix Dal Tadka
Nisha Madhulika
Rating:

5.00

out of

5