Kesar Sabudana Kheer। Soaked Sago Pearls kheer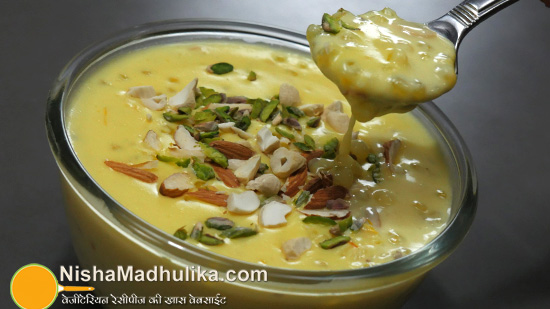 Kesar sabudana kheer can be prepared for any festival or any fast to consume.
Ingredients for Sabudana Kheer
Soaked Sago Pearls- ½ cup (100 gms)
Full Cream Milk- 1 litre
Sugar- ⅓ cup (75 gms)
Cashews- 10 to 12
Almonds- 10 to 12
Raisins- 2 tbsp
Saffron Strands- 15 to 20
Green Cardamoms- 5 to 6
Pistachios- 15 to 30
How to make the Kesar sabudana kheer
Wash and soak the sago pearls in water for 1 hour. Remove the remaining water from the soaked sago pearls after the 1 hour.
Chop the almonds, pistachios and cashews finely.
Peel the cardamoms and prepare a powder of the cardamoms by grinding them.
Put some saffron strands in the milk to change the colour of milk.
Boil the 1 litre of milk in a vessel and add the soaked sago pearls in the boiling milk. Continuously stir and cook it until it boils properly.
Add the raisins in the milk after it boils and mix some kesar milk in it. Cook the milk on the medium flame until its consistency is thick and keep on stirring the milk so that it doesn't burn from the bottom.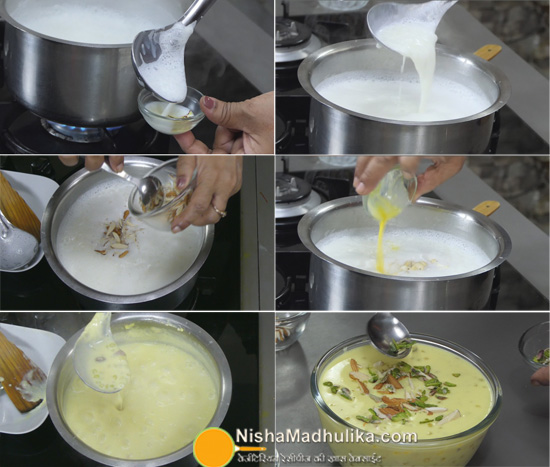 The thick kheer is ready, add the sugar and the cardamom powder in the milk. Mix them properly. Cook the kheer for more 1-2 minutes.
The kheer is ready, switch off the flame and keep aside the kheer to cool down slightly. Once the kheer cool s down, pour it in a bowl and garnish with the dry fruits.
Delicious kesar sabudana kheer is ready and you can prepare it whenever you want.
Suggestions
Sometimes the milk curdle after adding the soaked sago pearls. To avoid the curdling of the milk continuously stir the milk while adding the sago pearls.
Stir the kesar sago pearls kheer after every 1-2 minutes while cooking so that it doesn't burn and stick to the bottom.
\How to make Sabudana Kheer | साबूदाने की केशरिया खीर । Easy Sabudana Dessert for Fas

Tags
Categories
Kesar Sabudana Kheer। Soaked Sago Pearls kheer
Nisha Madhulika
Rating:

5.00

out of

5