Punjabi Dum Aloo | Easy Dum Aloo Recipe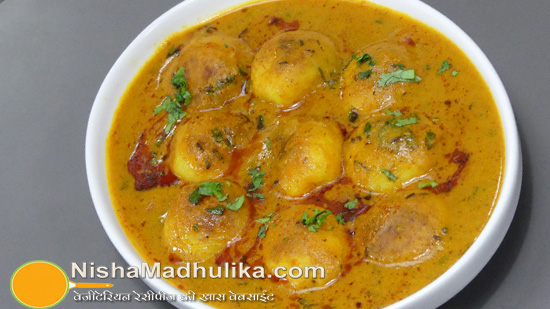 Dum aloo is a curry which is consist of rich gravy, it is the best option for the get-togethers and parties.
Ingredients for the Dum Aloo Recipe
Boiled Potatoes- 11 (300 gms)
Tomatoes- 4 (250 gms)
Green chilli- 1
Ginger baton- ½ inch
Cashew- 8 to 10
Coriander leaves- 2 tbsp (finely chopped)
Oil- 3 tbsp
Cumin seeds- ¼ tsp
Asafoetida- ½ pinch
Cinnamon stick- 1
Brown cardamom- 1
Cloves- 2
Black peppers- 4 to 5
Turmeric powder- ¼ tsp
Kashmiri red chilli powder- less than 1 Tsp
Coriander powder- 1 Tsp
Garam masala- less than ¼ tsp
Dry fenugreek leaves- 1 tsp
Salt- 1 tsp or to taste
How to make the Dum Aloo Recipe
Boil the smaller sized potatoes to make the dum aloo. Do not boil the potatoes on their extreme level. Boil them until a single whistle arrives in the pressure cooker and then remove them from the pressure cooker.
Peel the boiled potatoes and fork them so that the masala move properly inside the aloos in the further process. Add the ¼ tsp of turmeric powder, ¼ tsp of the red chilli powder, ¼ of salt in the potatoes and mix them properly.

Prepare a paste of the cashews, ginger, green chilli and the tomatoes.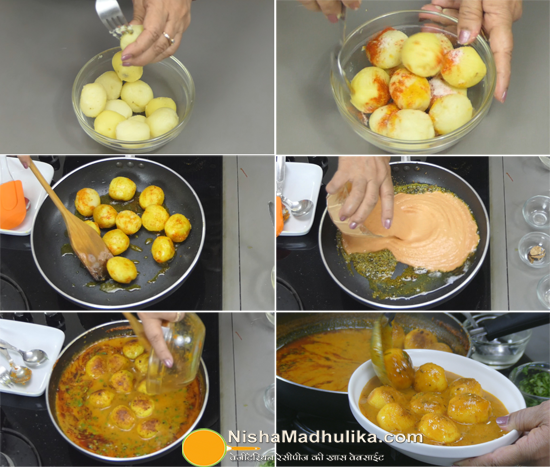 Preheat the pan and add 2-3 tsp of oil in it. Fry the potatoes in the pan until they appear light golden brown in colour. Remove the potatoes in a pan when they are fried.

Again preheat the pan and add 2 tbsp of oil in it. Roast the cumin seeds, cinnamon stick, cloves, black peppers, brown cardamom slightly in the pan. Add the asafoetida, ¼ tsp of the turmeric powder, coriander powder and 1 tsp of the dry fenugreek leaves, roast and mix them properly in the pan.

Add the prepared paste in the masala mixture and red chilli powder. Roast the paste until the oil separates from the paste. Add the 1 cup of water in the masala mixture and mix it properly. If after the adding the water still, the gravy appears thick then add ½ cup of more water in it. Add the garam masala, salt and green coriander in the gravy. Add the fried potatoes in the gravy and mix them properly. Cover and cook the curry for 4-5 minutes and check them later.

The curry is prepared after the 5 minutes, take out the curry in a bowl. Garnish it with the green coriander and serve the tempting dum aloo curry with the rotis, parantha and the rice. It is very tasty in taste.
Suggestions
Do not mix the masala in the potatoes if you want to deep fry them.

If you'll roast the masala properly then only the colour of gravy would be dark.

You can prepare the gravy according to your taste and you can even add almonds, melon seeds or just only the onions and tomatoes paste.
Easy dum aloo recipe । दम आलू , ईजी ग्रेवी के साथ, जिसे रोजाना भी बना सकें

Tags
Categories
Punjabi Dum Aloo | Easy Dum Aloo Recipe
Nisha Madhulika
Rating:

5.00

out of

5